Construction has begun for the Filippetti F 100, a luxury flybridge-cruiser that offers significant performance, ample exterior space and above-average liveability
"It will be the flagship of Filippetti Yacht's flybridge range, the pride of Made in Italy", from the direction in the shipyard founded by Giovanni Filippetti we are informed of the start of work on the construction of the Filippetti Flybridge F 100, scheduled for delivery in late summer 2022.
"This model combines all those aspects that are fundamental for us: from the external lines that do not follow the changing fashions, to a layout that maximizes interior and exterior spaces – always casting an eye on maximizing performance," explains Giovanni Filippetti from his boatyard where work is also continuing at full pace on the construction of two other units in the Filipetti Sport 55 line, which has distinguished itself in the market thanks to a hull that, in just 55 feet, offers finishes and fittings of larger yachts.
Filippetti Flybridge F 100 : superior performance


The Filippetti Flybridge 100 is a superyacht that has created a lot of sensation attracting public attention right from the design stage, especially for the great innovations it features.
Sporty yet elegant, the F 100 does not forego medium-high performance. In this respect it is unique in its reference market, where performance in terms of speed does not always excel.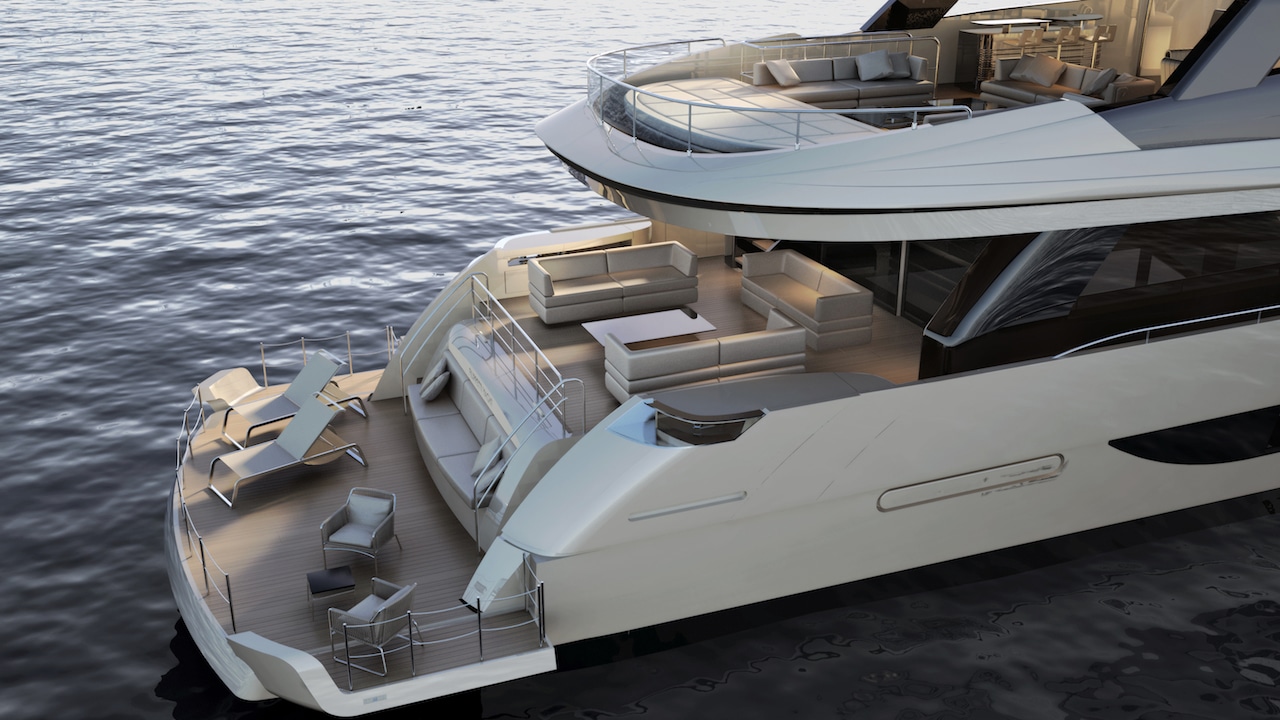 F 100, equipped with a planing hull, is designed to deliver a top speed of 26 knots, thanks to two Man V12 2000 hp engines.
The F 100 is also designed for carefree sailing on long cruises, given its ample autonomy – useful for at least 300 nautical miles – and the presence of two 33 kW generators.
The new model boasts above-average liveability compared to superyachts of the same size. There are no less than six cabins: an ultra-generous full-beam VIP and four guest cabins that are really surprising in terms of volume.
What's more, this superyacht is semi-custom, which means the owner could choose to convert the cabin space into a gym or spa. The galley is perfectly connected to the crew quarters, which offer three en-suite cabins.
The photos that have come into our possession show the hull of this 30.4-meter superyacht resting on trestles inside the Mondolfo boatyard and although it is still in its 'raw' version, it already seems ready to express all its majesty.
Such nautical grace is the result of the historic collaboration between the shipyard and Fulvio De Simoni, a world-famous designer, whose pencil has sketched the sleek lines of a sporty superyacht with a flybridge that we have no doubt will give great emotions to the lucky owner who will get it.
The F 100 can be controlled right from the flybridge, where there is an additional helm station, perfect for navigation from a more dominant position and fully enjoying the sea air. The Filippetti F 100's flybridge is literally a terrace on the sea, with an additional wonderful dining area, well sheltered by the shade of a compelling hardtop, together with the ease offered by the huge sundecks and a functional bar area.
Relaxation and routine on board also find freedom aft, where space is renewed in a cockpit that is completely open to the sea. What's more, the stern platform is equipped with a movement that allows it to be submerged under water for at least one meter, making it easier for sailors to handle water toys.