Milele sets sail on her inaugural journey, carrying with her an unprecedented aura of luxury and style, perfectly encapsulated in this elegant 45-metre superyacht.
The anticipation to admire Milele is palpable, as this magnificent yacht will make its world debut soon, at the Monaco Yacht Show 2023, ready to reveal itself to yachting enthusiasts from all over the globe, just like its destinations.
In fact, thanks to the naval architecture by Van Oossanen, this all-aluminium 45-metre yacht is designed for transoceanic cruises, capable of exceptional sailing capabilities, speed and incredible range.
The exterior design is a collaborative effort between the renowned OMEGA team and the visionary owner, while the interior design was brought to life by the owner and Martin Hanff.
Milele catches the eye with her clear and clean lines, which translate into a sturdy and imposing exterior profile. The owner has been intricately involved in refining the exterior design, adding innovative details that truly contribute to customize this yacht.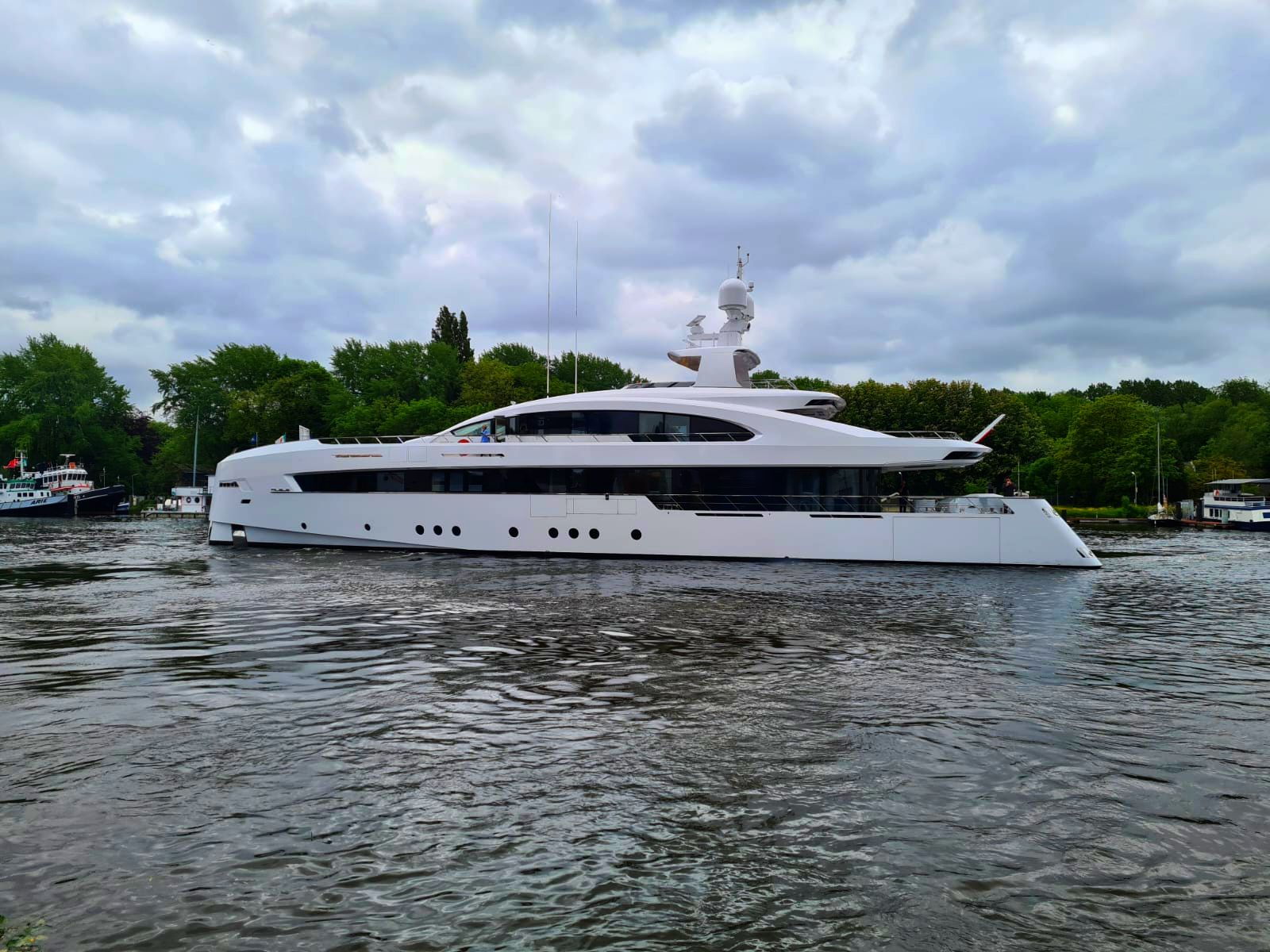 Notable features include scooped bulwarks, which provide unobstructed views of the surroundings, custom-designed stainless steel handrails which add a touch of sophistication and unique deck furniture tailored to each deck for an improved guest experience. The removal of the rub rail further contributes to a streamlined and polished appearance.
Below the waterline, MILELE incorporates Van Oossanen's patented Fast Displacement Hull Form (FDHF) in conjunction with the Hull Vane. This underwater spoiler, positioned beneath the stern, effectively reduces fuel consumption and ship motions by an impressive average of 20 to 25%. The result is an enhanced onboard experience, characterized by improved comfort and stability.
Coupled with the advanced hull features, MILELE's two 2580 kW MTUs (type 12V 4000 M93L) diesel engines, along with two electric booster engines, propel the yacht to remarkable speeds. Reaching an impressive top speed of 25.5 knots, MILELE outpaces most superyachts of her size. Even at a steady cruising speed of 12 knots, she boasts transatlantic capabilities with a range of 3800 nautical miles.
Furthermore, MILELE offers an electric-only drive mode, allowing her owners to explore sensitive ecological areas while minimizing their environmental impact. The yacht's dynamic positioning system eliminates the need for anchors, ensuring the preservation of these delicate locations.
On board Milele, spacious accommodations fit for a discerning owner. The main deck features an opulent owner's suite, complete with a private office. On the lower deck, three guest staterooms await, each exuding an unparalleled luxury ambiance. The design of the furnishings, personally supervised by the owner, is highly innovative, yet cosy and elegant.
Outdoor space is abundant, with a well-protected foredeck lounge area, a sun deck, and ample room on the bridge and main decks. For those seeking a bit of adventure, MILELE offers a fully equipped gym for guests to stay active. In addition to the standard array of water toys, an extraordinary two-person submarine is available, providing a captivating opportunity to explore the wonders of the underwater world.
Supervising the construction of Milele was Zucker with a Partner from Hamburg, while the experienced team at Ocean Independence assumes operational management. Peter Hürzeler, the CEO of Ocean Independence, who oversaw the sale of the project, shares his enthusiasm about MILELE's delivery, stating,"With MILELE, one of the most exciting yachts built in recent years has just arrived in the Mediterranean. Her style, speed, and technical features truly make her stand out. It's truly wonderful when visionary owners turn their ideas into reality ".
MILELE embodies the quintessence of elegance, luxury and innovation of yachting. She captivates the imagination and is destined to leave a strong mark on the industry.