The programme of the
Monaco Energy Boat Challenge 2022
proved to be exciting for the quality and number of marine innovations on display: the boats that we thought we would see in the future are already a reality that we can touch with our own hands, and the event that took place in the Principality served precisely to put them to the test. The editorial staff of
YachtingNews,
which
followed the Monaco Energy Boat Challenge and reported on it day by day
, was able to follow the sea competitions of the 38 competing teams and the very interesting conference on 'The energy transition in yachting: opportunities and limits', held on Thursday. Also on Thursday, the 'Job forum' was held, bringing together young nautical engineers with manufacturers in informal meetings between tomorrow's talents and today's industry players.
For all participants, in short, it was business as usual after the pomp and circumstance of the inaugural ceremony on the upper deck of the Monaco Yacht Club, organizer of the Monaco Energy Boat Challenge 2022, which is part of the broader 'Monaco, Capital of Advanced Yachting' project. In the words of Monaco Yacht Club Secretary General
Bernard d'Alessandri,
"we are carrying on a long tradition of innovation. The collective umbrella brand '
Monaco, Capital of Advanced Yachting
' is determined to remain a pioneer in this field and support the industry in its energy transition."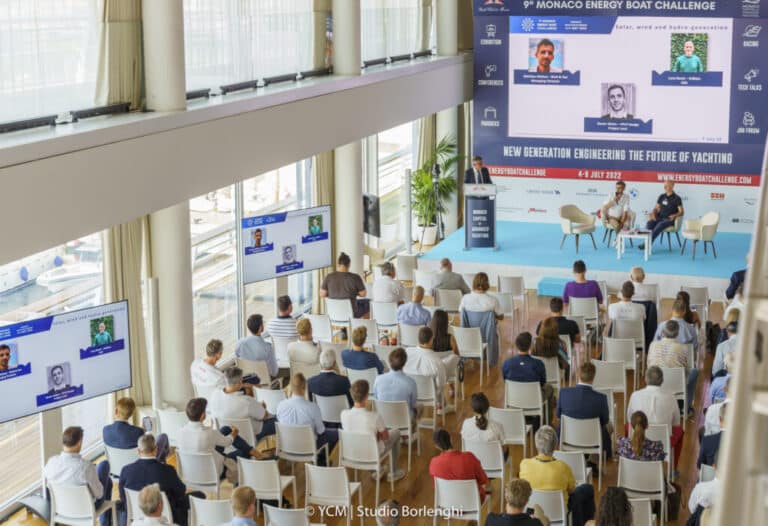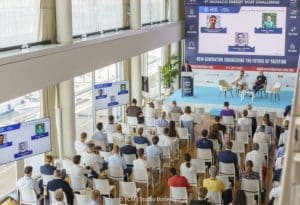 Renewable and alternative energy sources for marine propulsion, from wind propulsion to batteries via the much-vaunted hydrogen and solar energy, were the focus of the conference on the
energy transition in yachting
. The speakers' main focus was on research and development to take stock of how these technologies have evolved and to assess their potential for the future. Like computers, clean energy power systems have become smaller, more powerful and more convenient, but challenges still remain in an increasingly competitive market. "The issue of charging speed is obviously a key factor, as is that of batteries, which are still heavy and expensive," said Vita CEO
Rory Trahair
, for example. Also on the agenda were other alternative fuels such as green hydrogen, about which
Christine Funck
, CEO of Aquon Yachts, spoke: 'As far as hydrogen for maritime applications is concerned, although storage remains a key issue and progress is being made on many levels, it is not the mastery of the technology that is lacking, but rather the absence of refuelling facilities and the regulations that remain to be worked out, not forgetting that unlike cars, maritime transport is not considered a major issue". All in all, the energy transition in yachting is a very fascinating and wide-ranging topic, crossing issues such as solar power generation directly on board, the surface-performance ratio and battery storage capacity. The speakers were able to discuss the challenges of using these solutions on yachts, particularly in light of wind power, and the consensus was that the problem is not so much the technology available today, but rather
how to integrate these options into boats
, which are already complex means of transport in themselves. The importance of a design that takes these solutions into account, combining them from an engineering and operational point of view, remains a crucial factor, but one that inevitably increases final costs. On the other hand, however, these systems are becoming increasingly simple and easy to use for boat owners and captains.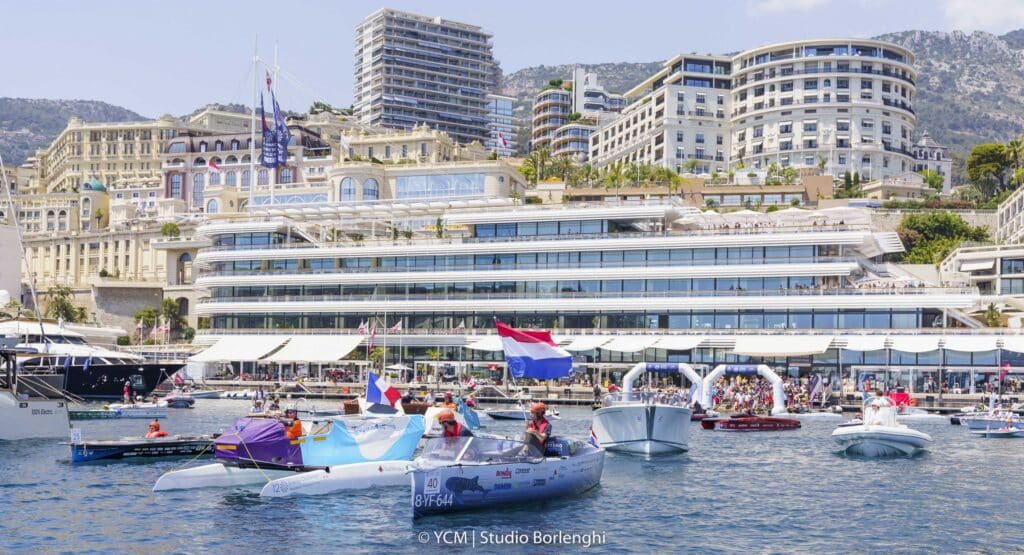 At the Monaco Energy Boat Challenge 2022, in short,
boats proved to be a vast experimental field
in which progress is contributing to the metamorphosis of the maritime sector, with possible benefits for other sectors as well as the environment in general. Port and marina managers, naval architects and shipyards discussed for days how to rethink the industry in an environmentally friendly way, wanting to drive innovation both to meet growing demand and to anticipate future developments and be proactive, although it may still take several years to move from the research and development phase to practical, certified and marketable solutions. Perfect, in this sense, were the closing words of adventurer
Mike Horn,
who had the task of closing the debate: 'We have to stop comparing solutions and find out which one is the best before making a decision. They are all fine as long as they meet the imperative goals of fighting climate change. To get there, there is no other option but to work all together. It is too easy to procrastinate and make excuses, when it is the sum of all the little things we are not doing that is leading us to disaster. Shipyards and boat owners have a unique opportunity to show us the way'. In a nutshell, for the yachting energy transition many solutions are possible and the technology is available; however, there is still a lot of work to be done, although there is great hope that the yachting industry will start to collaborate on the development of clean energy in boats in order to save the planet.