The shipyard announces the sale of the fifth hull of the A115 flagship. 
Arcadia Yachts has started the year in full swing: the Italian shipyard, in fact, announces the sale of the fifth hull of the Arcadia A115 flagship and the delivery of the eleventh unit of the iconic Sherpa yacht. Two very important news confirming the excellent health of the Italian shipyard.
"This new sale is the result of the unanimous effort that the whole company has made in recent months to better understand and evaluate the needs and wishes of the Customer," explains Ugo Pellegrino, Sole Director of Arcadia Yachts. "I am proud of the work of the whole yard, where everyone performs their duties at their best. This was undoubtedly the main element that gave us the confidence to gain the Customer's trust for such an important order".
Arcadia A115:  hull number 5 embodies Arcadia philosophy
The fifth A115 represents the quintessence of the unique inside-outside relationship solidly established in ARCADIA's DNA: the decor of the interiors and exteriors, renovated by with Arcadia Yachts Hot Lab and the Owner, creates a single environment that flows naturally between inside and outside. A clear example of this is offered by the upper deck, whose 140-square-meter surface is entirely designed to create a single convivial setting that has the "jardin d'hiver" at its heart, with full-height windows that provide close contact with the surrounding environment in every season. On the A115, in fact, as on every other Arcadia yacht, the feeling is that of an absolute continuity between inside and outside, which guarantees a full and uninterrupted contact with the nature.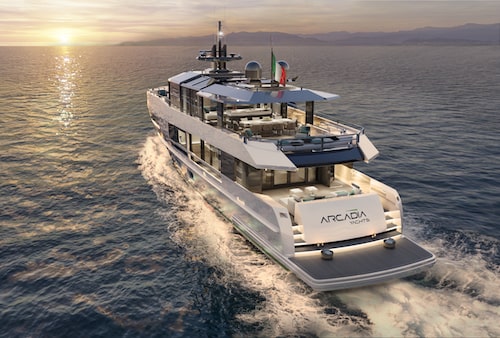 The fifth Arcadia A115 is a superyacht with impressive volumes. The three decks, in fact, offer 500 square meters, with three double guest cabins on the lower deck (further customization defined with the Owner as the A115 generally hosts four cabins on the lower deck).
The bow section of the main deck, instead, is entirely dedicated to the owner's apartment: 40 square meters guarantee perfect privacy, with a private access leading directly to the external forward area where a swimming pool or other amenities chosen by the owners can be installed.