It is difficult not to be impressed by the extremely elegant lines of the new Benetti FB283. Literally built from a blank sheet of paper, this 62-meter superyacht succeeds perfectly in summarizing Benetti's ability to sew a bespoke suit around its owner.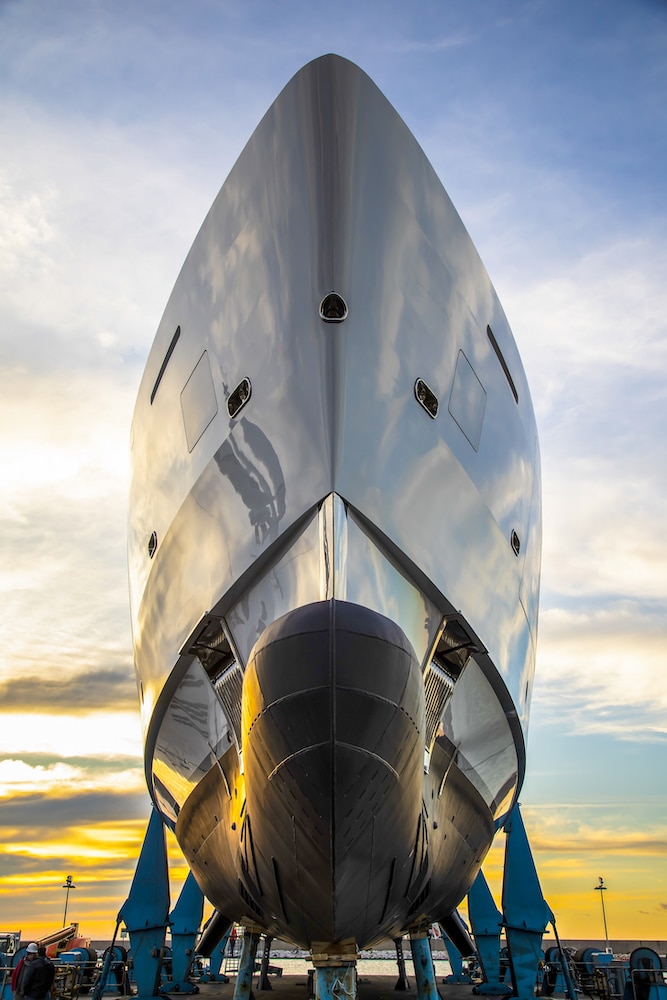 Speed, low noise emissions, fun for the family, and long range were in fact the requirements of this demanding client, which, thanks to the joint work of the shipyard, Giorgio Cassetta Yacht Designers, and Van Oossanen Naval Architects, were completely fulfilled.
FB283 features a (FDHF) fast displacement hull that allows her simultaneously to reach 21 knots of maximum speed and a range of an impressive 4,500 nautical miles while cruising at 12 knots.
Exteriors and interiors have been created under the banner of essentiality, a quality of which Cassetta is a master and which has made it possible to achieve a sublime continuity of surfaces, which invites the viewer to run an invisible hand over the surfaces, smooth as a rock polished by a river.
This continuity reaches apex viewpoints in the magnificent 6 x 2 meter uninterrupted windows which give a wonderful glimpse while perfectly integrating spaces otherwise disjointed.
But Mr. Cassetta has not only succeeded in creating an avant-garde design. Benetti FB283 also manages to be a place devoted to comfort and family fun. In fact, there are plenty of storage areas offering space for all kinds of water toys and equipment for having fun in the water, including diving gear.
The bow garage has a side door and the space to contain a 10-meter tender, two jet skis and a second tender.
Completing the equipment is a touch-and-go helicopter platform that makes sure the owner and guests can reach the yacht whatever the location in complete privacy.
FB283 construction process started during the 2020 lockdown period and has allowed Benetti to demonstrate once again how advanced it is, both in terms of technology and innovative capacity, and breathe life into a one-of-a-kind Full Custom yacht.