Columbus Sport 50 Metres: launch, video and sea trials. 
The vertical bow and sleek lines characterise this new Columbus Sport 50 Metres which, like the early models in the Sport line which is now universally recognised as an icon of sportiness and elegance, breaks the mould and dazzles with its beauty.
This is probably why the images of the launch, which was held at the Ancona shipyard, were so eagerly awaited. The fleet is thus enriched by a new 50-metre model, which encompasses the distinctive elements of this design, combining new aesthetic nuances with an engineering development of the hull that guarantees a high level of comfort when sailing, even in rough seas.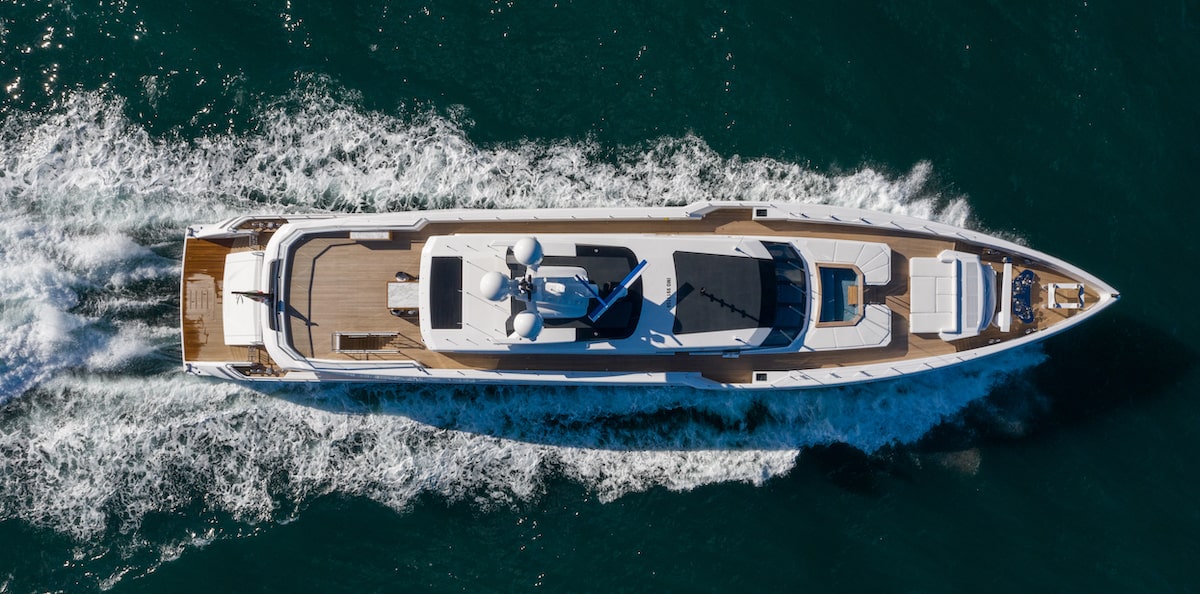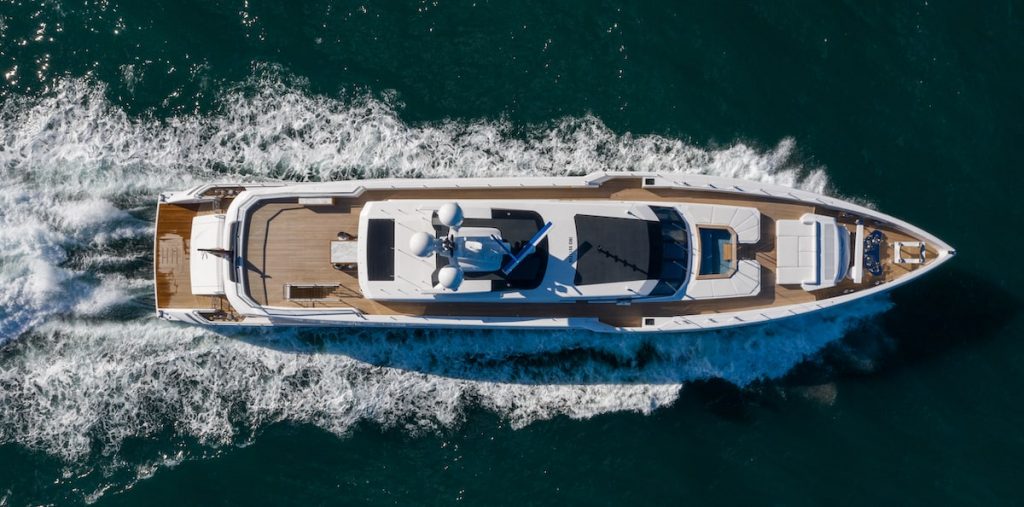 Columbus Sport 50 Meters: out-of-the-ordinary performances.
Columbus Sport 50 Metres features naval engineering created by Palumbo Superyachts in collaboration with Hydro Tec. The external lines and interior design bear the signature of LUCA DINI Design & Architecture.
Powered by two 2600 hp MTU engines, M/Y K2, this superyacht reaches a maximum speed of 21.5 knots, a cruising speed of 17 knots and has a great autonomy that allows transoceanic crossings.
"A 50-metre semi-displacement superyacht featuring an angled hull, capable of reaching top speed with agile ease and, at the meantime, of sailing at 10 knots while consuming just 70 litres per hour of fuel. – All this has been possible thanks to 35 years of experience in the field of fast hulls combined with the latest development of high-efficiency displacement chains," says Sergio Cutolo, founder of Hydro Tec.
The performance analysis of this superyacht at the lowest speeds has in fact shown particularly interesting values, making possible very low consumption (and as a consequence very low emissions).
The Columbus 50 Sport obtained extremely low noise levels in the guest quarters during the sea trials, which have just been carried out. These were particularly significant because they were obtained at 85% of the maximum power of the propulsion system, at a speed of just over 20 knots.
Characterized by several unprecedented solutions designed at the owner's request, who is on his third project with Palumbo Superyachts, M/Y K2 accommodates 11 guests in 5 comfortable cabins assisted by 11 crew members housed in 7 cabins.
The aluminum hull and superstructure together with a gross tonnage of 499 are definitely one of the strength points of this vessel that, combined with a maximum draft of 2.2 m, make her a one-of-a-kind yacht on the market capable of sailing in shallow waters.
Columbus Sport 50 Metres is scheduled to make her official debut at the upcoming Monaco Yacht Show in September.