JFA Yachts is ready to launch a new, amazing motor-powered catamaran. Presented a few days ago, the Long Island 86 Power is the latest addition to the Long Island range, which already includes the 85 Sailing and 78 Power. As the French builder points out, these are the only catamarans to have an aluminium hull and a composite deck.
Long Island 86 Power features generous dimensions and proportions with accommodation of up to 8 guests in four cabins. Bearing the signature of Marc Lombard, the design is exquisite, with great roominess and brightness aboard, combined with an extraordinary cruising experience resulting from excellent performance, reliability and quality of materials, in line with the top-of-the-range standards to which JFA Yachts has accustomed us. Interior design, on the other hand, is by Darnet Design.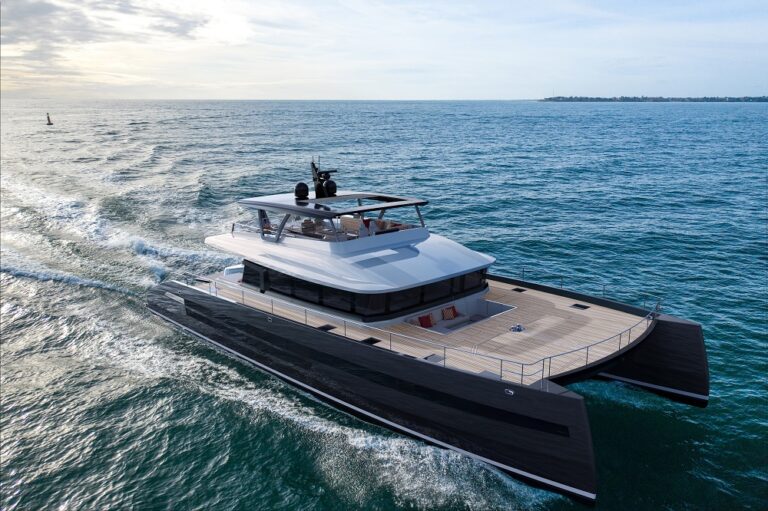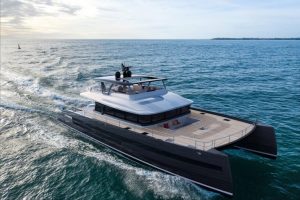 These highlights alone would be enough to make the Long Island 86 Power a new object of desire without a second thought, but the elements of interest do not end there. The new catamaran from JFA Yachts is in fact available with both conventional and hybrid propulsion – the latter being particularly silent compared to market standards – and features an extremely spacious navigation deck, for which honourable mention must go to the Marc Lombard Design Group. With the helm conveniently sheltered but without compromising visibility, and with the large shaded outdoor lounge area, the navigation deck is in fact the real strength of the Long Island 86 Power, allowing both privacy and spectacular sea views when cruising. What's more, the excellent additional structure already available on the Long Island 78 can be added as an option, which allows the helm station to be closed off and to have solar panels able to provide electricity when the yacht is at anchor, in order to reduce the use of the generator.
The comfort and luxury of the Long Island 86 Power are complemented by a fabulous hot tub located forward and accessed from the interior lounge area for intimate moments of relaxation, an aft platform that can easily be converted into an additional sunbathing and diving area and four light-filled cabins. In short, as Marc Lombard emphasizes in his comments on this latest luxury catamaran from his studio, "the Long Island 86 Power is a simple, efficient, refined craft that is perfect for cruising".