The capabilities of camera technology are ever-increasing, and as the leading company in marine vision at sea, SEA.AI is facilitating this with its high-technological product range for maritime vessels. Their latest technology is the SEA.AI award-winning products (previously known as OSCAR: Optical System for Cognition and Ranging) . 
SEA.AI products have optical and thermal sensors, detecting temperature differences of up to 0.05 °C, and the powerful processing allows for precise day and night vision. This onboard processing recognises objects by matching a combination of filters and comparing anomalies with a neural network, characterising millions of objects through the database. The SEA.AI database has more than five million annotated marine objects with over 300,000 nautical miles of on-water experience worldwide. The regular over-the-air updates ensure that it is constantly developing and learning more.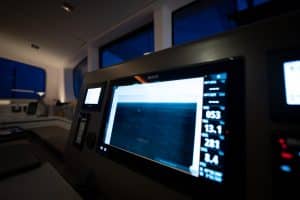 SEA.AI combines this camera technology with artificial intelligence, and the system uses machine learning via IBM supercomputers to aid safe navigation at sea. The algorithms have been created to spot the patterns of visible and invisible light associated with hazards. 
The SEA.AI product range is utilised by maritime vessels such as recreational sailing and motor yachts, commercial ships, government vessels and Unmanned Surface Vehicles (USV). The Offshore ONE is the all-in-one design perfect for offshore sailing and Bluewater cruising.
The detection ranges from a small object or person at 100m to a motorboat or sailboat at 1,000m. For commercial vessels, government craft, first responders and motor yachts, the flagship Sentry offers the most extended detection range (up to 7,500m), the widest detection angle and the fastest detection frequency to improve performance. The key functions of the Sentry are collision avoidance, object tracking, manual controls with 16 times electronic zoom and 360-degree perimeter surveillance. For competitive solutions, the Competition 320 and the Competition 640 offer ultra-lightweight units for rotating masts, with up to 2,000m detection range (Competition 640) .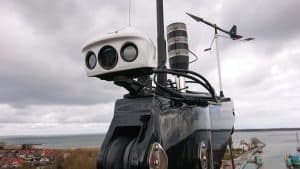 The products are simple and intuitive to use, with an intelligent alarming system for collision avoidance and perimeter surveillance. They can be controlled by using the SEA.AI app on a smartphone, tablet or chart platter on an onboard computer. This enables the watchkeeper to reliably identify and recognise small objects not detected by radar or AIS.
The future sees a rapid portfolio expansion through SEA.AI technology in the coming years. Perhaps, soon with the improvements in autonomous technology and artificial technology, SEA.AI will replace the watchkeeper altogether.