Highly aggressive lines, perfectly in line with the conceptual philosophy of the boatyard, 53-meter length and a maximum beam of over 9 meters. This is the business card of the new Tankoa S533 Saetta, the latest concept of the homonymous shipyard. 
It's a planing yacht, whose concept is based on the previous Tankoa Yachts' model, the 58 Open launched last year.
The high performances of the new Tankoa S533 Saetta are guaranteed by triple MTU 16 V 2000 set-up, coupled to hydrojet propulsion. This way, the Saetta – at least according to the manufacturer – can be pushed to a top speed of 28 knots, with a cruising speed of 24. Moreover, the 40,000-liter fuel capacity of the yacht ensures a range of about 600 miles which can even double when sailing at 17 knots.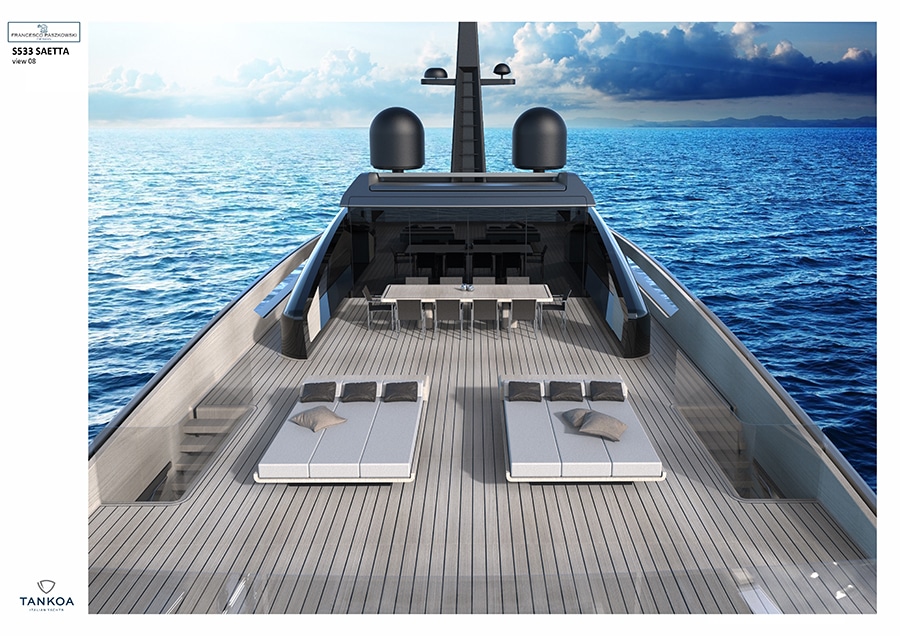 The character of this yacht has been illustrated in few essential words by Francesco Paszkowski, the renowned yacht designer who has collaborated with some among the world's most important shipyards, including Baglietto, Sanlorenzo, Heesen Yachts, CRN, Turquoise Yachts, Canados, ISA Yachts and, of course, Tankoa Yachts. 
"The S533 – claimed architect Francesco Paszkowski – represents a leap forward, a glimpse to the future. The evolution of the path we have followed to now with the new project for Tankoa, a shipyard that we are proud to work with, combines speed with solidity, cleanliness of lines and forms with dynamic lightness. The extensive use of glass was adopted to bring the sea in, and the essential exterior design amplifies this sensation of an endless horizon".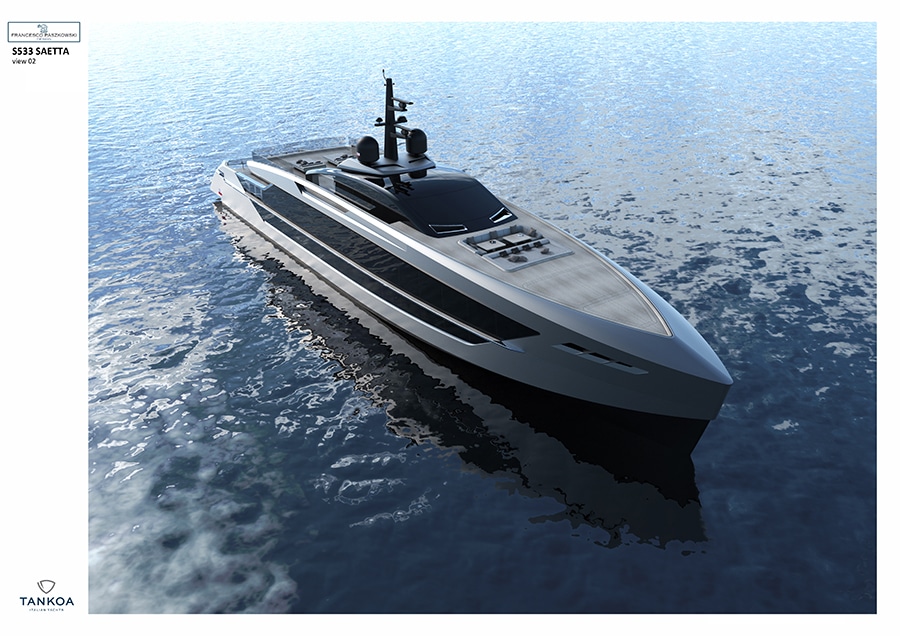 And this contact with the sea clearly emerges from the first renderings offered by the yard, along with an extensive use of glass surfaces which have a dual function of providing guests with an excellent exterior view and maximizing/streamlining the sporty lines of the yacht. 
The company now boasts 10 years of experience. Tankoa Yachts indeed was born in 2008 thanks to a group of young managers and investors already involved in yachting industry. 

"Boutique Shipyard" is the definition that founders gave to their initiative, in order to explain a precise business philosophy which can be summarized as follows: few models, ranging from 50 to 90 meters in length, advanced technology, attention to details and a high level of customization based on a high-profile basic standard.