The first Ferretti Yachts 860 was recently launched in Cattolica. Presented eight months ago, this flybridge yacht will now make her first Mediterranean cruise with her Italian owner, who appreciated the contemporary design of the project and was convinced by the versatility of the interior and exterior.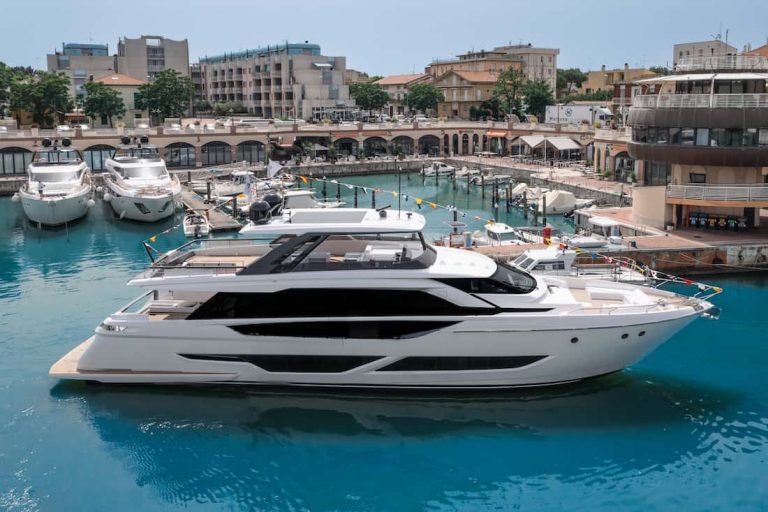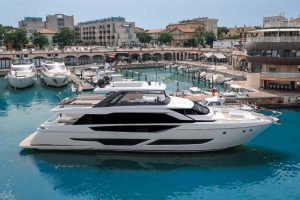 This superyacht, which stands out for its cruising comfort, stems from a joint collaboration between the Strategic Product Committee, chaired by Engineer Piero Ferrari, and the Ferretti Group Engineering Department. The interiors are by the Ideaeitalia studio, while the exteriors were designed by architect Filippo Salvetti, who has thus managed to complete his third yacht.
As far as the interior design is concerned, the owner has chosen a classic mood, with dark and warm colours and strong contrasts. Noteworthy are the art déco-inspired curves and the sinusoidal staircase connecting the main deck to the lower deck. Everything was chosen and designed with the idea that the owner should feel right at home.
We will be able to admire the Ferretti Yachts 860 at the Cannes Yachting Festival next September, while the lucky ones will see her at the Ferretti Group's Private Preview in Monte Carlo, after her owner has finished his cruise.
Ferretti Yacht and Ferretti Group
Ferretti Yachts is a brand of the Ferretti Group. The Ferretti Group specializes in the design, construction and sale of luxury motor and recreational yachts and comprises eight brands: Ferretti Yachts, Riva, Pershing, Itama, CRN, Custom Line and Wally. Headed by CEO Mr. Alberto Galassi, the Ferretti Group owns and manages six shipyards located throughout Italy and is able to reach customers in more than 70 countries worldwide thanks to its direct presence in Europe, the United States and Asia and its network of approximately 60 carefully selected third-party dealers.