The new Ice 70 is one of the most eagerly awaited sailing yachts on the market, and being journalists is not enough to judge it correctly.
To be able to judge a yacht of this kind correctly, you have to have been an owner. An owner who, while intensively loving his own boat, has had the experience that allows him to recognize all those little faults which, in the end, often lead you to want to change it, in constant pursuit of that perfection that all experienced owners desire when they are at sea.
Without having followed this path, it would otherwise be impossible to understand how, climbing on board the new Ice 70, even after an arduous search, our indomitable critical spirit was inevitably replaced by an almost total gratification.
This sailing yacht, in fact, represents a quantum leap forward, both for the boatyard and for the "Blue water cruiser" segment, which until yesterday was dominated by the large, renowned shipyards of Northern Europe and now has a new example to follow.
Ice Yachts and Umberto Felci have succeeded in synthesizing in this boat the quintessence of seafaring, in an almost perfect balance between performance and seaworthiness, beauty and living spaces, building quality and design.
That's why the new Ice 70 is, in our opinion, the best "blue water cruiser" we've tried in recent years. Let's find out why.
Ice 70 Sea Trial
I had the opportunity to test this sailing boat at length, twice, under the careful guidance of its captain. He is a man of great experience, both in navigation and construction. This is an essential skill when approaching the construction of an Ice yacht which, as is well known, is essentially built in custom mode.
I am therefore not surprised to find on board a "setting" of rigging aimed at simplifying the handling of this boat which, if desired, can also be steered by its captain single-handed.
Both wheels are equipped with a series of push buttons that allow you to do practically everything. From here I can tack and fine-tune the jib and mainsail, as well as "adjust" the gennaker, backstay and kicking strap.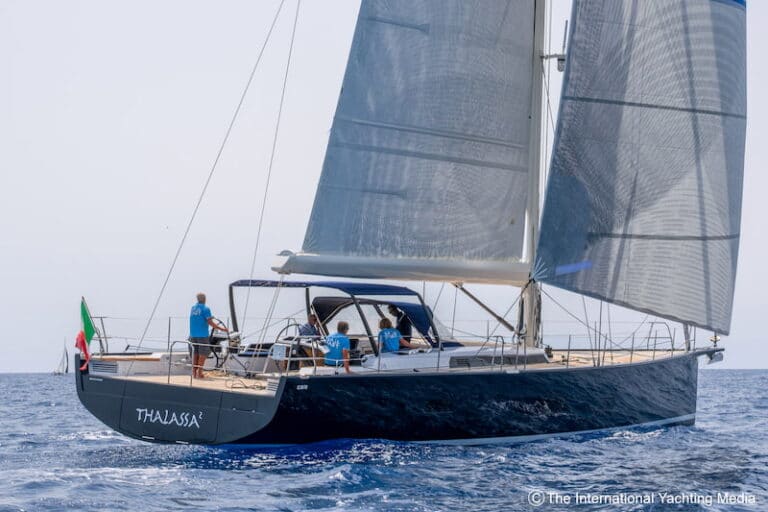 Test outing, first impressions
Once I was familiar with the controls, I put my hands on the wheel and, despite the little wind and the rough sea that was plaguing the first day of trials, Thalassa immediately set off upwind, accelerates quickly and reaches wind speed in no time. There are 5/6 knots of true wind and a good meter of wave, conditions that would normally make us suffer, but Thalassa, leaning slightly to one side, grinds away as if nothing had happened. At 40 degrees from apparent, the boat accelerates noticeably and exceeds the wind speed by half a knot. The prerequisites for a really good time in optimal conditions are all there.
But it's her ability to cut through the waves without slowing down that amazes me, as well as her natural tendency not to roll, even when motoring. I make a mental note of these characteristics as we head back to the port. This was a test outing, designed solely to rig the sails for the first time; we'll be back on board in a few days, with the boat in perfect condition.
Second outing, today it's for real
We come back one
board after a few days and find the Ice 70 in perfect condition. The bowsprit is already rigged with the rolling Code 0 and there are 7/8 knots of stable wind outside, the sea is slightly rough. We get out of the mooring in no time at all thanks to the two manoeuvring thrusters (bow and stern) and, just as quickly, the furling mainsail in the boom goes aloft, we bear away, unroll the jib and we go.
I bear away to get her up to speed and Thalassa takes off like a rocket.
Don't get me wrong, she doesn't start off like a racing boat that swerves and accelerates in a nervous manner. She reacts more progressively, without exasperation, in a perfect overall balance, as a true blue water cruiser should know how to do. In no time, though, we're already at 8 knots, which, considering the wind speed and the size of the jib, is a lot…
I sail close to the wind and the inclination increases. At 30 degrees, we sail at 7.4 knots with less than 8 of true wind. The feeling is that we can go anywhere in these conditions, the Ice 70 glides over the water and cuts through the waves without slowing down, sailing with impressive stability and consistency.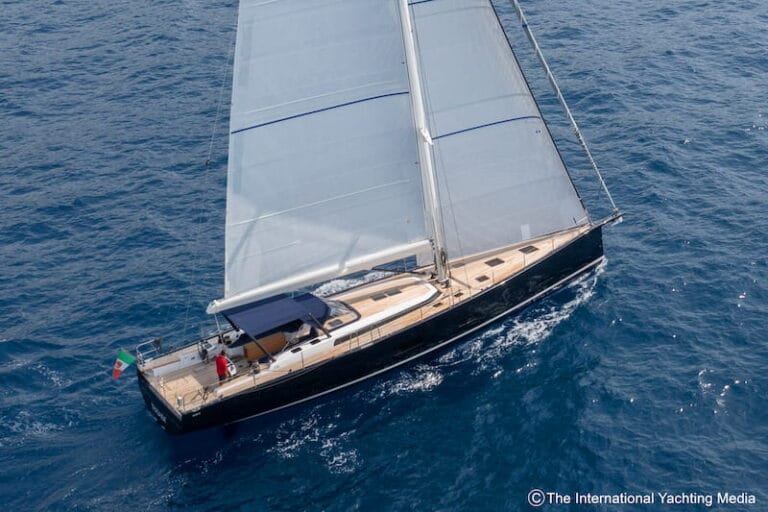 I decide to sail
even closer the wind, it's very simple, I press the pusher that moves the traveler upwind, I give the jib a squeeze and….and Thalassa does not stop, at 20 degrees from the apparent we are still sailing att 6.6 knots, the boat is heeling but doesn't seem to get nervous, the rudder remains neutral and I am once again impressed by the performance of this boat.
The retractable (Cariboni-branded) keel takes the draught from 2.8 to an impressive 4.5 metres and, both upwind and in terms of stability, makes a real difference, especially when combined with a rudder as deep as this one (2.8 metres).
I bear away, close the jib, open the Code O and it's like putting the turbo on. The Thalassa passes the wind speed by quite a bit and kicks into high gear. We are constantly flying at well over 8 knots, almost reaching 9 knots on more than one occasion. The speed is high, but what continues to impress me is the stability and calmness with which we move on board in these conditions.
I reluctantly leave the helm to the next journalist and sit down to write my impressions in my notebook. I smile as the first words appear which, perhaps a little abruptly, best describe the summary of these two days of testing.
"Careful northern shipyards, so dormant in your prestige you didn't realize that they were happily passing you from downwind."
Because this new Ice 70, let's say it without revential fear. sails and is built much better than anything we have tried so far.
Test Data
Test Data
SAILING PERFORMANCE
MOTOR PERFORMANCE
Jib
True wind
Angle
Speed in kn
RPM
Speed in kn
Consumption (l/h)
7.5
20
6.6
750
3
0.7
7.6
30
7.4
1,000
4.2
1.4
7.8
40
7.6
1,500
5.4
4
8.4
65
7.9
2,000
7.8
9.7
8.5
90
8.2
2,100
8
11
2,200
8.7
13.4
Code 0
2,400
9.5
17.3
True Wind
Angle
Speed in kn
2,600
9.9
21.6
7.5
70
8.5
2,800
10.2
27.3
7.5
90
8.8
3,000
10.3
39
7.5
120
8.3
3,250
10.4
45
About the new Ice 70
While every Ice Yacht is different due to custom construction, Thalassa was built entirely around the specifications of her lucky owner.
Built in composite using the infusion technology, the new Ice 70 makes extensive use of carbon fibre for the hull, deck and structures, thus guaranteeing great sturdiness and remarkable safety coefficients. Insulation and soundproofing are excellent, and when you go below deck during navigation the sensation of peace and silence is maximum, you can barely hear the lapping of the waves.
The fully retractable dodger and the carbon bimini, specifically requested by the owner, are remarkable. The bimini is made from two aerodynamically profiled carbon arches and has internal lighting. The cockpit benches are oversized and, taking advantage of the inclination of the raised saloon, offer two chaises longues that defining comfortable would be an understatement.
The sail/deck plan is simply perfect: self tacking staysail, low overlap jib and structural deflector on which to rig the Code 0 or a large gennaker. This equipment, combined with the mainsail furling in the boom, gives this boat the ability to sail in all weather conditions without effort or risk.Thalassa parte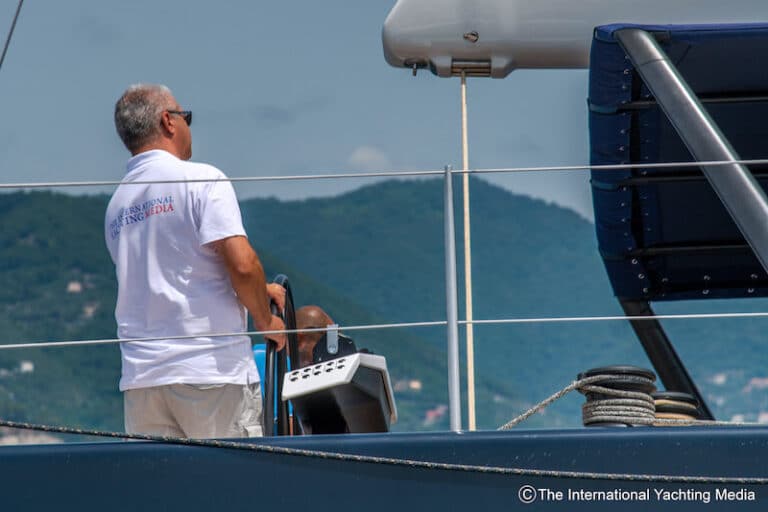 Concealed beneath the deck, the furlers and mooring winchesmake it all very simple without compromising the superbly crafted design of this maxi yacht that, again without fear, is truly unrivalled in terms of beauty.
Interiors
And if the performance had won us over, it is the interior that delivers the definitive coup de grace. The quality of the workmanship is visible everywhere, with the finest woods and leathers used, and a wealth of equipment and accessories. Further proof of unquestionable quality supremacy.
The owner of the Thalassa here demonstrates excellent taste and extensive nautical experience.
On the one hand, the colour combinations which, while remaining modern, retain a taste for maritime art that is clearly visible here and, which I fully support, still gives you the certainty of being on a boat and not in the minimalist room of a five-star hotel.
On the other hand, the configuration of the interiors that use the entire aft section of the boat to accommodate the galley, the crew quarters and an undoubtedly useful day toilet.
The galley is U-shaped and is the envy of a villa's one. It is the focal point of life on board, connected directly to the crew quarters via an internal passageway, thus creating a circulation on board worthy of a superyacht.
The dinette is endless and takes advantage of the maximum beam to offer plenty of sofas and seating. The use of the retractable centreboard bulkhead is ingenious, as it is used both to create a second private lounge (from which it is possible to watch the big screen television) and to delimit the boundaries of the VIP cabin, equipped with private head and separate shower.
But it's the owner's flat that really astonishes us. The hallway leads to the starboard side to the private bathroom which, as you'd expect, is more than generous in size and has a separate shower with a "Finnish sauna" type seat. Continuing to port there is a small private office which, equipped with a swivel chair, dedicated bookcases and a display replicating the on-board plotters, creates an environment as beautiful as it is useful. Behind it is the owner's King Size bed, which is enormous and surrounded by niches and windows.
Technical Specs
| | |
| --- | --- |
| LOA | 21.30 m |
| Max Beam | 5.76 m |
| Draft | from 2.80m to 4.50 m |
| Displacement | 25.50 t |
| Ballast | 8.10 t |
| Engine | Yanmar 4LV 195 hp |
| Propeller | KMH 50A-3 V drive |
| Interiors | 3 cabins – 3 heads |
| Water Capacity | 1100 l |
| Fuel Capacity | 1200 l |
| Generator | Mase is12 |
| Inverter | Victron 8000 |
| Batteries | 1000A24V lithium |
| | |
| Sail Plan | |
| Mainsail | 148 m2 |
| Jib | 111 m2 |
| Staysail | 66.5 m2 |
| Code 0 | 238.6 m2 |
| Gennaker | 377.6 m2 |