Lürssen launches its Innovation Lab, an innovation centre to explore new propulsion solutions for superyachts.
Lürssen and its Innovation Lab
Following the presentation of the AHPO super yacht at the Monaco Yacht Show, Lürssen continues its path of innovation, with fuel cell technology taking centre stage. At the International Superyacht Show, the German shipyard gave visitors the opportunity to take a virtual tour inside the Innovation Lab, where a fuel cell is being tested, and to understand how a fuel cell powered by hydrogen reformed from methanol works.
Last year Lürssen announced the building of their first yacht with fuel cell technology as well as the set-up of an Innovation Laboratory at their yard in Bremen. The Innovation Laboratory is a demonstration facility that is used to simulate and test the integration and operation of a Marine Hybrid Fuel Cell System on board a yacht powered by methanol.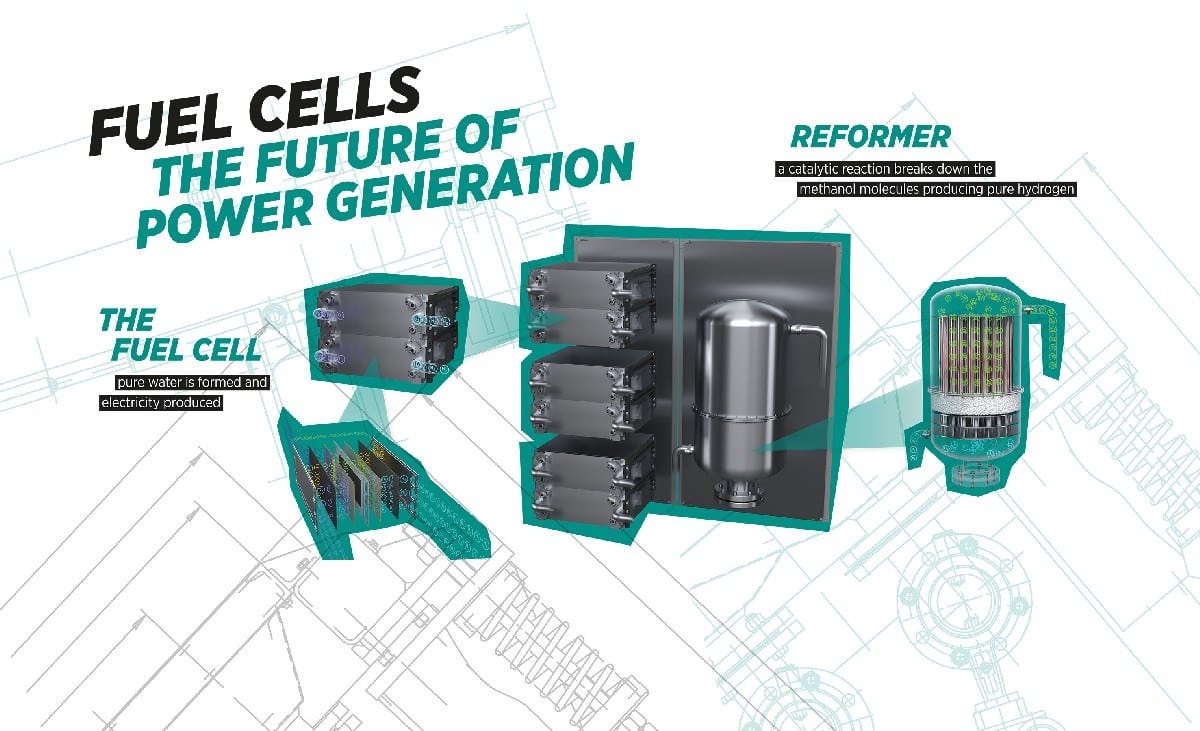 The fuel cell was integrated into the Innovation Lab this summer and has already successfully completed the first test runs. Under real life ambient conditions and with all required auxiliary systems this demonstration plant can be considered to be the final preparations to bring fuel cells on board a yacht successfully.
Lürssen has committed to a strategic partnership with Freudenberg, one of the leading experts for maritime fuel cells and a global technology group with around 50,000 employees in 60 countries.
An essential milestone in maritime fuel cell technology is that Freudenberg has recently received type approval from RINA. The safety concept thus conforms to the IMO Interim Guideline and is approved for use on all types of ships. This is also the world's first type approval for a maritime fuel cell system with integrated fuel reforming for the fuel type methanol.
"With Freudenberg e-Power Systems we have a strong partner at our side – explains Peter Lürssen – We both have the aim to bring fuel cells on-board ships in the near future and revolutionize the yacht's energy and propulsion system. The innovation laboratory will definitely bring us a step closer to a CO2 emission free Lürssen yacht".
Yacht Refit, Lürssen Yacht's core business
Refitting has become a core business for Lürssen. The Lürssen Group has unique facilities and a high potential to follow more refit activities.
"A refit is not just about necessary maintenance, it can also be a way to completely transform a yacht – says Alberto Perrone, Refit Sales Director at Lürssen – We enjoy the very complex rebuilds and refits, we like when owners come to us with problems to solve, we want to do the things that other yards steer clear of".
In the past year more than a dozen yachts between 70 and 100 metres have used the Bremen facilities for refits and maintenance work. With over 1,800 qualified and experienced employees, the German shipyard has the manpower to tackle any project, be it a new build, refit or conversion.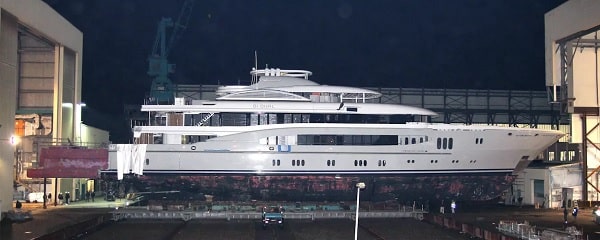 Lürssen has also invested in a think tank that is dedicated to finding solutions to vessel construction and maintenance problems before they even arise. This proactive attitude also reduces the amount of time a yacht spends out of the water, which can be a selling point for owners who like to spend as much time as possible on board. This, combined with German engineering and timekeeping, gives many owners the peace of mind to take their yachts back to Bremen, Hamburg or Rendsburg, the three cities where the German company has yards.
AHPO, a comfortable and cutting-edge superyacht
AHPO is a 115 m superyacht, unveiled at the last Monaco Yacht Show, custom-built for a regular customer who already owned an 86-metre Lürssen and who needed high-level design and engineering and, above all, comfort for his family.
Once again, the exterior and interior design was entrusted to the Nuvolari-Lenard design studio, which succeeded in giving the Lürssen AHPO a unique look.
The design was based on the need to provide the yachtl's guests with a healthy and familiar life on board, with numerous facilities for sports and activities, including an extra-large gymnasium on the sky lounge deck and a spacious wellness area on the lower deck.
AHPO is designed to reach its destinations in maximum comfort and, like all Lürssen yachts, this superyacht is equipped with advanced technology and engineering systems.
For example, the generators are equipped with a heat recovery system to heat the pool water, resulting in reduced electricity consumption and emissions, while dynamic positioning enables electronic anchoring in sensitive and remote areas, protecting the seabed and allowing safe mooring regardless of water depth.