For the third year running Sacs Tecnorib, the brand that has set new trends in the industry by inaugurating the Maxi Rib era, was the protagonist of the 'chase boats' segment at the Monaco Yacht Show, a unique opportunity to showcase a range that seems to fit the needs of this sector perfectly.
"Monaco is the Superyacht Show. The concentration of skippers and owners is unique in the world, and for Sacs Tecnorib the percentage of owners using our products as Chase Boats is great, – Andrea Loro, Sales Director at Sacs Tecnorib, told us during the event – So the fact that we are here in such a strategic location also gives us excellent potential. This is the third year that we have been in this situation with our booth and we have always achieved excellent results".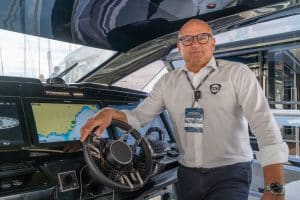 Montecarlo is certainly the ideal place to meet owners, gather important information also for future developments and live the experience to the full, following, among other things, a concept that Sacs knows well and that has a name all its own: the Sacs Experience.
"Sacs Experience goes hand in hand with the market. – continues Andrea Loro – While 10 years ago customers were looking for a specific product, today we sell an experience instead.
Sales are very cross-sectional, the customer is looking for a product in which he or she recognizes himself or herself: beautiful, stylish, and guaranteeing a complete on-board experience with ample sunbathing spaces combined with shaded relaxation areas where he or she can listen to music, have a cool drink, and spend quality time with loved ones and friends. The brand, of course, is also important, with its reputation and product type, but in the end it is always the aesthetic taste that drives.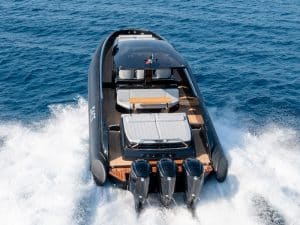 So the fact that we have launched this Rebel line, which is a sort of middle ground between our core business, i.e. the maxi tender/maxi RIB of which we are world leaders, and a more traditional boat, has brought many customers closer to the space and comfort of a luxury boat, but with an 'aggressive RIB' aspect.
This has decreed the success of the Rebel range, which was born in 2017 and already boasts three models, with the fourth on the way.
Today experience is sold as I said. To make a comparison it's like buying a dress that you like, you look for something that looks good; well, in the case of yachting, this means finding what best suits your individual desires and expectations".
Today Sacs Tecnorib joins the Monaco Yacht Show as a well-established company, with the mentality of an industry leader and a strength that enables it to deliver high-end Maxi Ribs that are appreciated the world over. But the way up to here has been a long one, a path made up of experiences that blend together, of daily work and of skilled workers who take their talents to the extreme in these models.
"The path to get here has been long. – reiterates the Sales Director of Sacs Tecnorib – Sacs was founded in 1989, then acquired in 2004 by the Laserline group, and from there, thanks also to a series of collaborations with important brands in the automotive sector, such as Abarth, Ferrari and Jaguar, we have always tried to position the brand a little outside the traditional, exploring other worlds, always linked to luxury".
Sacs 11 Limousine
"All this has meant that the expectation created by the brand has also allowed us to approach very high-level customers with a product that meets their expectations. More and more customers are coming in with their own idea of style and colour, to the extreme of bespoke RAL, just as more and more owners want the tender to match the colour of their superyacht, to blend in with its style".
I only had one question left to ask Andrea Loro, a much more personal one, but one whose answer I believe encapsulates much of the enthusiasm that oozes from his expression: 'What does working at Sacs Tecnorib and being here in Monaco mean to you?'
" I am happy to be at Sacs. I am surrounded by young people who keep me young, pushing me to keep up. The nature of the product brings me face to face with a wonderful world, that of luxury, with case histories made up of really fascinating people and stories. This is an aspect that reaches its peak here in Monaco, which is also why we simply cannot miss it".