Seen from beyond the keel hidden by the abyss, the Tecnomar EVO 120 emerges from the compact sea in a streamlined geometry with decisive yet moderate characteristics, almost like a "V" lying horizontally on the stretch of water where the apex of the lines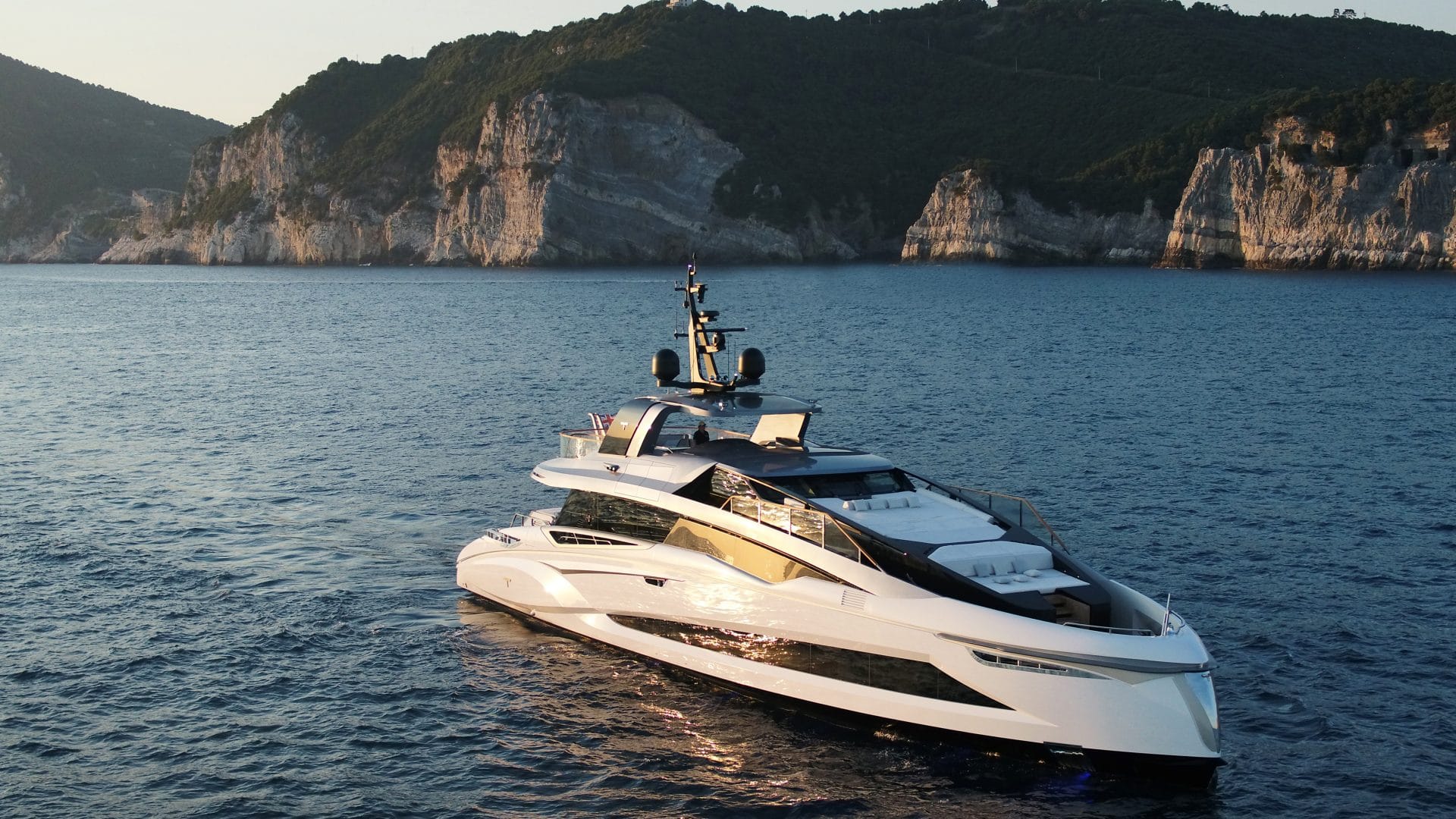 meets the slender bow, which in turn heads decisively towards the absolute horizon between sea and sky. On that "V", which is also a praised symbol of victory, is the very spacious sundeck with an exclusive lounge area where the liquid element continues to play a leading role, even on board, contained as it is in the "infinity" pool. With a cruising speed of 18 knots and a top speed of 20, this superyacht can certainly be defined as a fast superyacht for daily outings. Over 36 meters long, the yacht was delivered in these days and is the confirmation of that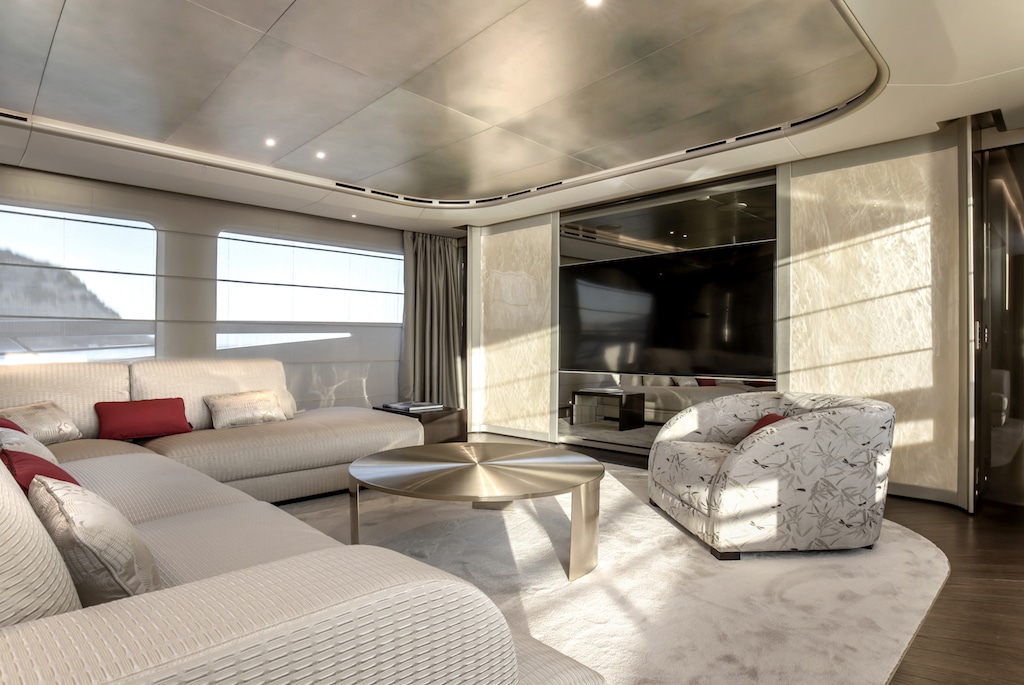 "aesthetic philosophy of essential and sophisticated luxury" that Tecnomar, a brand of The Italian Sea Group, seems to flaunt with a certain pride. In proof of the much-appreciated display of such magnificence, which adds to a body of 289 yachts launched since 2009, is another much talked-about, gutsy yacht: the futuristic Tecnomar for Lamborghini 63, inspired by the total sportiness of the famous supercar brand founded in the Sixties in Modena.
Tecnomar EVO 120: soft contrasts
The Tecnomar EVO 120 is a far cry from this highly original automotive co-branded project, because in its elegance with its sleek, well-marked lines, combined with the contrast of the dark windows on the white hull, the Tecnomar ECO 120 is a superior, "classic" style yacht with a refined design whose pencil has blended everything into "whispering tones" with great class.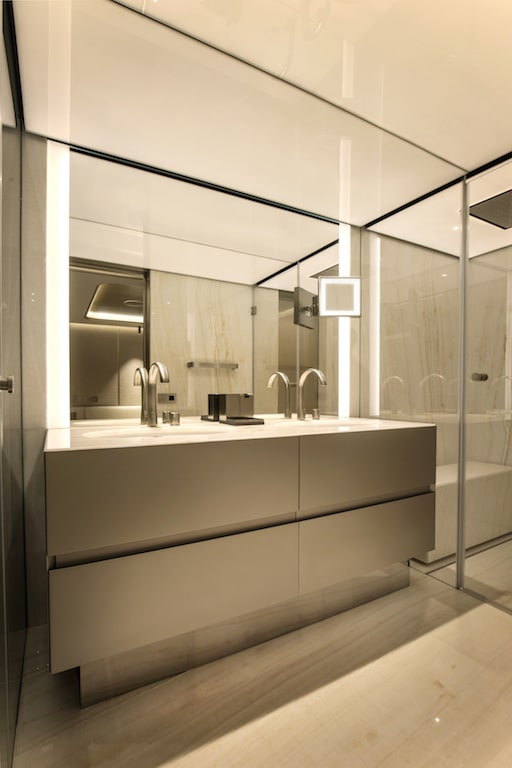 The yacht introduces itself to the public by trying to instil a sense of "rarefied atmospheres" set in a dimension somewhere between the romantic and the near and palpable future. In order to read, and therefore imagine "on", what the daily routine would be like on board this nautical gem, one must imagine living at sea surrounded by "decisive geometric lines that blend with more sensual curves to create a perfect balance of forms and give life to a relaxed yet decisive decor, in which the overall harmony is given by the combination of elements skilfully fused into an unquestionably exclusive unicum".
At least that's how the deus ex machina creators of Tecnomar talk about it, the creators of a boat that is unrivalled in terms of beauty and, above all, liveability of its exterior. "The minimalist forms find their counterpoint in the use of precious, refined materials, luxurious but discreet handcrafted finishes and in the skilful mix of soft, relaxing colours for fabrics and upholstery. The mood is light, fresh and contemporary, but it can also be enveloping and warm, like a day at sea". The hull and superstructure are in aluminium, lowering the specific weight of the boat and leaving it free to gravitational pull of the sea, which is dominated by rigorous aerodynamics.
Hull & Superstructure Material

RINA: CHullMach Y(Ch), REGYC Part A Compliant (Short Range)

Owner and Guests (quantity)

2x MTU 12V2000 M96L (1432 kW @ 2450 RPM)

Max. Speed (at 100% Max. Power)

20 knots @ trial load ±5%

Cruising Speed (at 85% Max. Power)

18 knots @ trial load ±5%

1,800 miles ±5% (with extra fuel)

2 x 50 KW, 400 V 50Hz 3ph

30 kW Electric 400V-50Hz approx.

Underway and 'at anchor' condition (zero speed)