Arcadia Yachts is a boatyard that has been managed to make its mark with the launch of very innovative projects since its foundation. At Cannes Yachting Festival, following the celebration of its 7th anniversary and the launch of 7 new models over the last 12 months, the company announced the first steps of its Yachting Renaissance: a complex of projects that revolve around owners' desires and promote a deeper and closer contact with the sea through crafts with low environmental impact in terms of both production processes and end use.
The practical application of this philosophy is materialized by the three lines the Torre Annunziata-based shipyard presented at the French boat show named A, Sherpa and For.Th. Different boats for different purposes and size but with many elements in common: aft-decks more spacious than the average; large flooring-to-ceiling windows with aluminium frames; Up&Down windows that create unique spaces where yacht boundaries become blurring and passengers can immerse themselves in the marine environment; large hulls whose maximum beam is larger than one might expect from a hull of such overall length; wider inner volumes, improved livability and, of course, excellent fuel and power efficiency.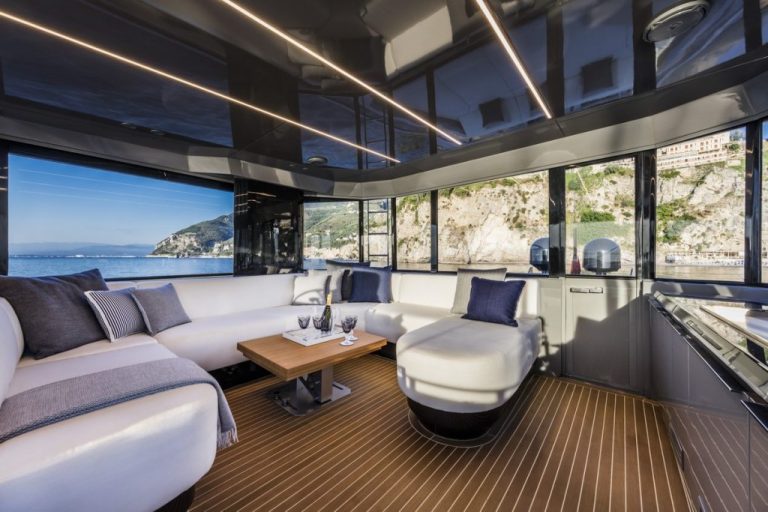 Design becomes philosophy and reflects the shipyard's credo, with positive repercussions on environmental impact. Windows let breeze come in, which translates into a reduced use of air-conditioning. Moreover, all glasses are thermally insulated and solar panels, built into the superstructure, allow to reduce the use of generators. Apart from these important qualities, a yacht is, however, built to be lived as pleasantly as possible by both its owners and guests. So, all Arcadia's creatures boast an essential focus on onboard conviviality through special areas where passengers can share time with the others or cozy spaces where to enjoy relax.
Let's find out together the new Arcadia lines.
A
The A line is the direct heir of the very first Arcadia Yachts. It currently includes 5 models:
A85: a 25.90 metre yacht with a 100% double-glazed superstructure which makes it completely different from any other boat on the market.
A85S: the layout is the same than the predecessor but with a third deck where the Up&Down movement of the windows converts the sky lounge into a covered environment that can be used all year round, whatever the weather.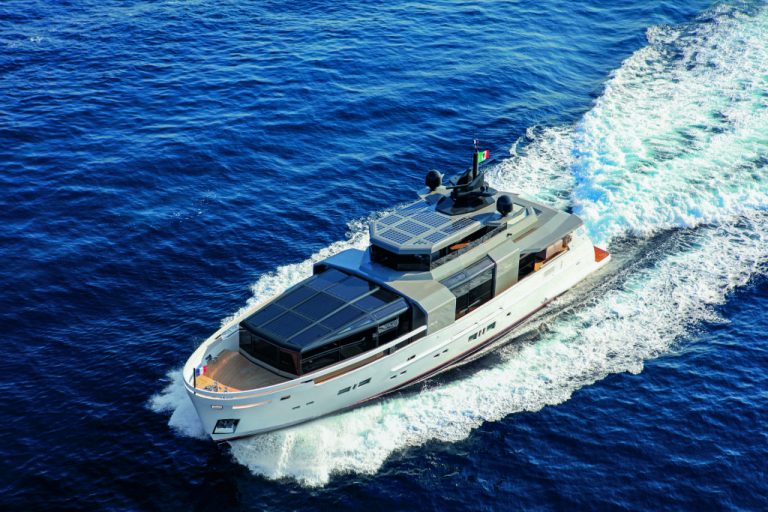 A100: on board this 30-metre yacht, the living zone becomes a patio. The convertible sky lounge of the A100 is " a fluid space where the owner rules the sea, season after season, enveloped in natural sounds, light and comfort".
A100+: compared with the previous model, this yacht features a greater fusion between interior and exterior spaces.
A115: A flexible layout with 4 to 6 double cabins, a large main deck and bright sky lounge. 
Sherpa
Initially consisting of just one model, Sherpa has recently become a real gamma. According to the definition provided by the shipyard, this is a Pocket-mega yacht, that is a multifunction yacht that offers owners unparalleled technical solutions in a size that is much more compact than the average. The yacht looks like an explorer, now cleverly shaped by Arcadia Yachts that has introduced a balanced combination of curved and flat surfaces along with linear windows and considerable volumes even in the bow section.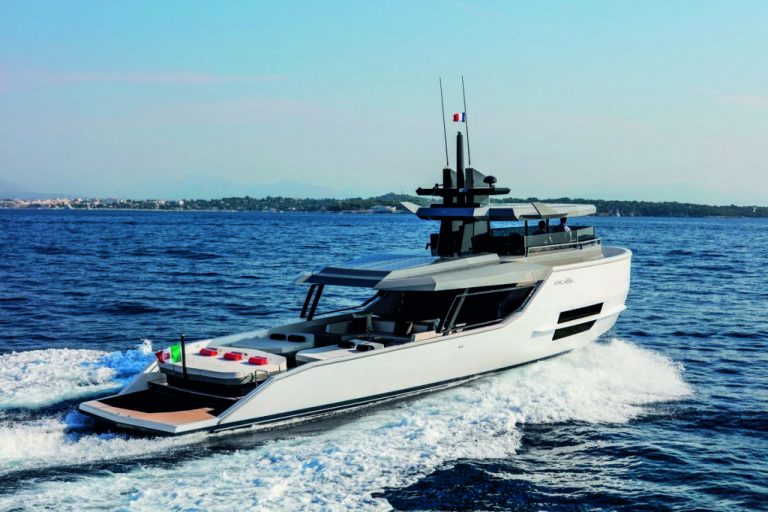 In the first months of 2019, the shipyard will launch the Sherpa 72. She will offer the yacht owner two outdoor living areas located on the main and upper deck. The convertible sky lounge will guarantee a perfect fusion between interiors and exteriors. 
The 72 will be powered by twin Volvo IPS engines. The IPS pods deliver fuel efficiency, low noise and vibration levels. Like the other Arcadias, the 72's solar panels will let owners run most onboard equipment so, instead of loud, vibrating generators, the interior will stay whisper quiet. 
For.Th.
Arcadia Yachting Renaissance couldn't fail to involve larger yachts, where the owner-sea relation and the pure pleasure of sailing are often compromised by the pursuit of excessive, majestic lines. Plastic composite materials are now replaced by steel. The new line has been christened "For.Th" – Forward Thinking – and has been developed in cooperation with Hot Lab studio, already involved with the Neapolitan shipyard in the A100+ project.
The first For.Th. model is a 47-metre yacht (with a maximum beam of 9 m) with large glass windows, open transoms on both main and upper deck. Classical Arcadia geometries are complemented by a nearly-all-glass prismatic glass structure on the upper deck.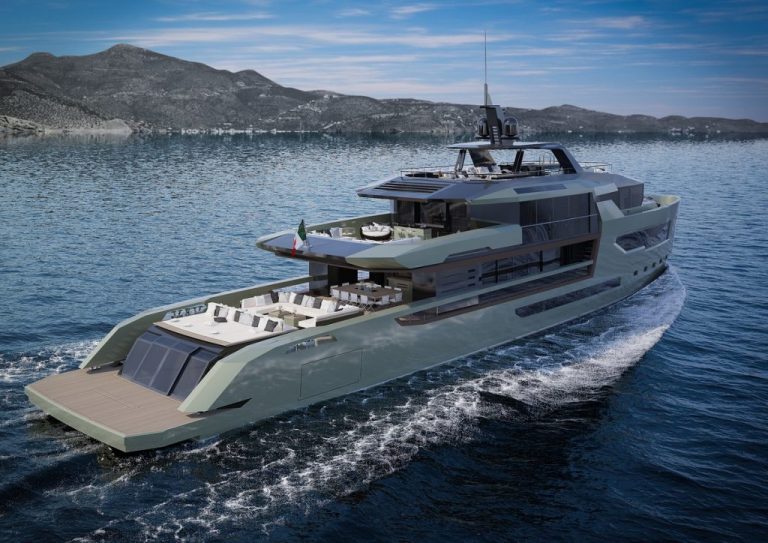 Usable spaces are concentrated just a little forward of amidships to maximize the sense of space. Everything is devoted to onboard conviviality. Design philosophy for the proposed interiors is based on an open floor plan, clearly citing modern luxury real-estate design. Spacious salons interact with exteriors, doubling volume perception. All this on a yacht with a displacement of just under 500 GT.