B.Yond, the brand-new green superyacht from the Italian shipyard Benetti, was launched in Livorno a few days ago. At 37 metres long, this voyager yacht features a four-deck layout and is the result of a vision by Paolo Vitelli, founder and president of the Azimut Benetti Group, and designer Stefano Righini. Particularly interesting is the return to the use of steel, instead of fiberglass, to ensure higher standards of durability and sturdiness, which is an important quality for long-cruising yachts.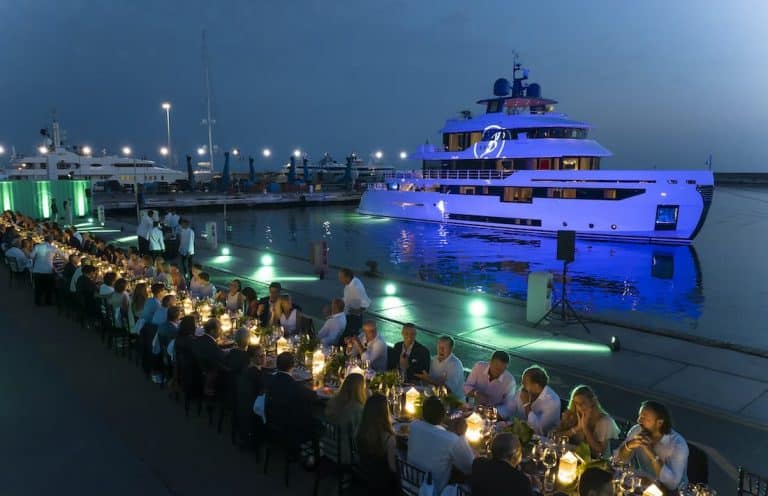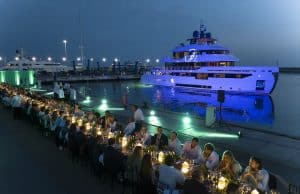 " I am happy to present one of the most innovative boats ever built – says Paolo Vitelli, Founder and President of the Azimut Benetti Group – Equipped with a hybrid system for long-range, environment-friendly cruising and featuring a four-deck layout in a length of just 37 metres, this is a dream come true for modern owners who want to cruise around the world with their family and friends. I wanted to image a record-breaking boat, and now here it is".
Benetti B.Yond: how is she eco-friendly?
The environment-friendly nature of Benetti B.Yond includes the use of SCR catalytic filters, a technology already adopted for Euro 6D diesel engines in the automotive sector, which makes use of a liquid urea-based solution to control the gases. What's more, on-board power consumption is optimized by Siemens Energy's E-Mode Hybrid system, which provides for different usage profiles while reducing CO2 and NOx emissions to an extent never before seen in a yacht of this type. This latter system is based on an integrated Add On "crew friendly" architecture that relies on a traditional system to simplify management and allow switching from mechanical to electric propulsion, and vice versa, without the intervention of on-board experts.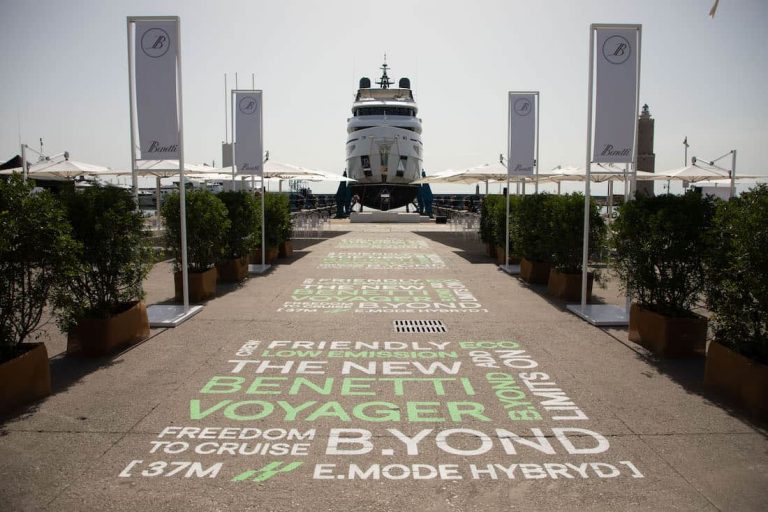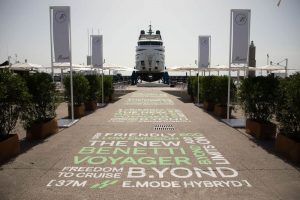 Four navigation modes are provided. In Eco Transfer mode the maximum speed is 9 knots, with a range of 8,200 miles, with only one engine running; consumption and CO2 emissions are reduced by up to 16% and NOx emissions by up to 80%. The Enhanched Comfort mode is of a diesel electric type, with only the gensets running, and the main engines switched off. In this case, a maximum speed of 7-8 knots is reached and on-board comfort is improved, reducing noise and vibrations. Extended range mode reduces fuel consumption and CO2 emissions by up to 10% and NOx emissions by up to 76% with generators off and main engines running; cruising range is 6,600 nm at a speed of 10 knots.
The most important mode, however, is Eco Cruise, which reduces any emissions by 100% by cruising in full electric and allowing access even in protected marine areas or where engine-powered navigation is forbidden. In this mode, the 300 Kw/h lithium battery pack available on board allows the boat to stay in Hotel Mode with the generators switched off. The autonomy at anchor with just the batteries is 8 hours during the day and 12 at night, while the recharge time is three hours.
Estimating an average annual use of 1,000 hours, of which 400 hours at sea and the remainder at anchor, a reduction in consumption and CO2 of up to 24% and a reduction in NOx of up to 85% can be achieved.
Design and interior/exterior layout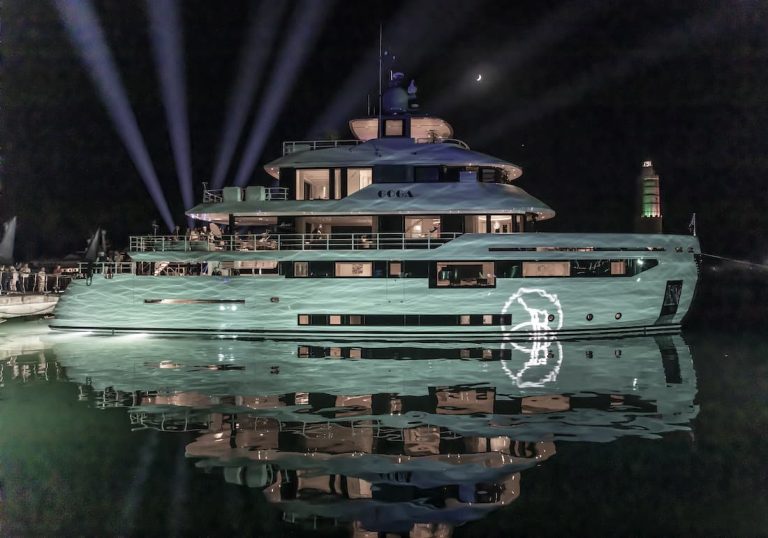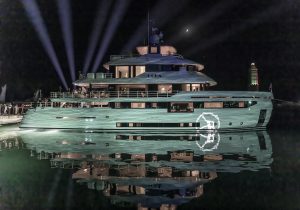 The lower deck houses the service area, with a walking wine cellar and a cold room that is not usually found on other yachts of a similar size, while the main deck is dedicated to the guest sleeping area, with four suites accessible from a panoramic lounge called "playroom".
The living area is located on the upper deck and has a 360-degree view of the sea, while the dining area, located on the sundeck, has a pantry and an outdoor table, both protected by a hard top. The owner's exclusive area is on the bridge deck. Privacy is ensured by two separate staircases, one for use by guests, the other by the crew.
This is the basic configuration, but the Benetti B.Yond has a flexible layout, managing to propose some variations. The main deck, in fact, can accommodate the owner's cabin in place of the playroom and the bridge deck can have a panoramic veranda instead of the owner's cabin.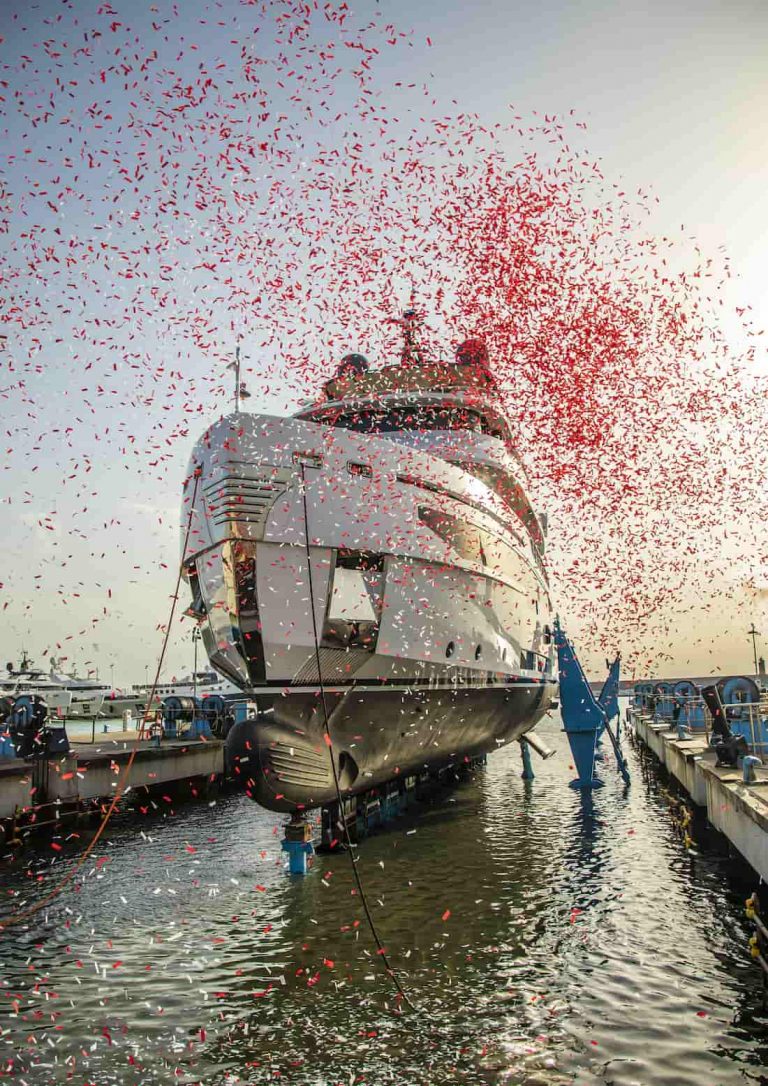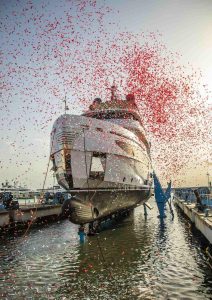 On the lower deck, a sixth guest cabin can be obtained by giving up the gym. The captain has two cabins at his disposal: one located near the helm station and one adjacent to the crew quarters; should he decide to use the first, the second could become a seventh guest cabin, increasing the already high number of possible guests on board.
The garage is large and can accommodate a 6.5-metre tender for the owner, a 4.2-metre rescue boat and two jet skis.
Pierluigi Ausonio's P.L.A.N.A. studio designed the hull; the white steel hull, with an aluminium superstructure, is completed by stainless steel handrails, painted white and finished with a teak gunwale. Benetti architect Mauro Izzo handled the interior design, while Giorgetti, chosen directly by the shipyard, supervised the furnishings. The colour palette is that of natural colours, enhanced by touches of blue and contrasting with the white of the walls.