Believe it or not, Biscayne Bay encompasses many more miles of Atlantic coast than just the pulsating heart of the Miami metropolis pitched between South Beach and the lively downtown district, where the superyacht and in-water portions of the Discover Boating Miami International Boat Show (DBMIBS) transpire.
The subtropical estuary actually stretches from Aventura in North Miami Beach to the upper Florida Keys in the south, and is abound with dazzling deep water destinations to discover surrounded by palm tree-fringed shores, lush atolls and wild mangroves. Considering that, every ounce of prime and pricy real estate has been completely developed, mingling with Mother Nature's green soul, all along Biscayne Bay are a myriad of waterway dining hot-spots and private properties featuring meticulously manicured mansions fit for the front cover of Architectural Digest.
With so much to see, no matter if your aquatic agenda involves making maniacal waves on your triple Mercury Racing 450R outboard-powered Pirelli RIB or taking it easy on the Pardo mothership – for a superb day of boating in the Magic City, we suggest sampling: an unforgettable sandbar, an uninhabited island, and an unrivaled seaside eatery to savor some flavors after dark.
Biscayne Bay: the Haulover Sandbar
In the middle of the Intracoastal Waterway (ICA) in North Miami, the Haulover Sandbar is our first piece of tropical marine paradise. The gleaming gin-clear waters of this natural treasure range between two and three feet deep at low tide and rise to approximately five feet as high tide rolls in.
Larger yachts will drop anchor along the perimeter in the deeper lying areas, but the captain will want to run the RIB over to the shallow center so everyone has the chance to wiggle their toes in the sand and forge new friendships with the uber-friendly fraternity of boaters all having a ball. Many visitors to Haulover even fire up their barbeque grills for a feast right there on the sandbar – adding new meaning to eating a meal on the water. Keep in mind, currents can be deceiving and swimming there from afar is not advised.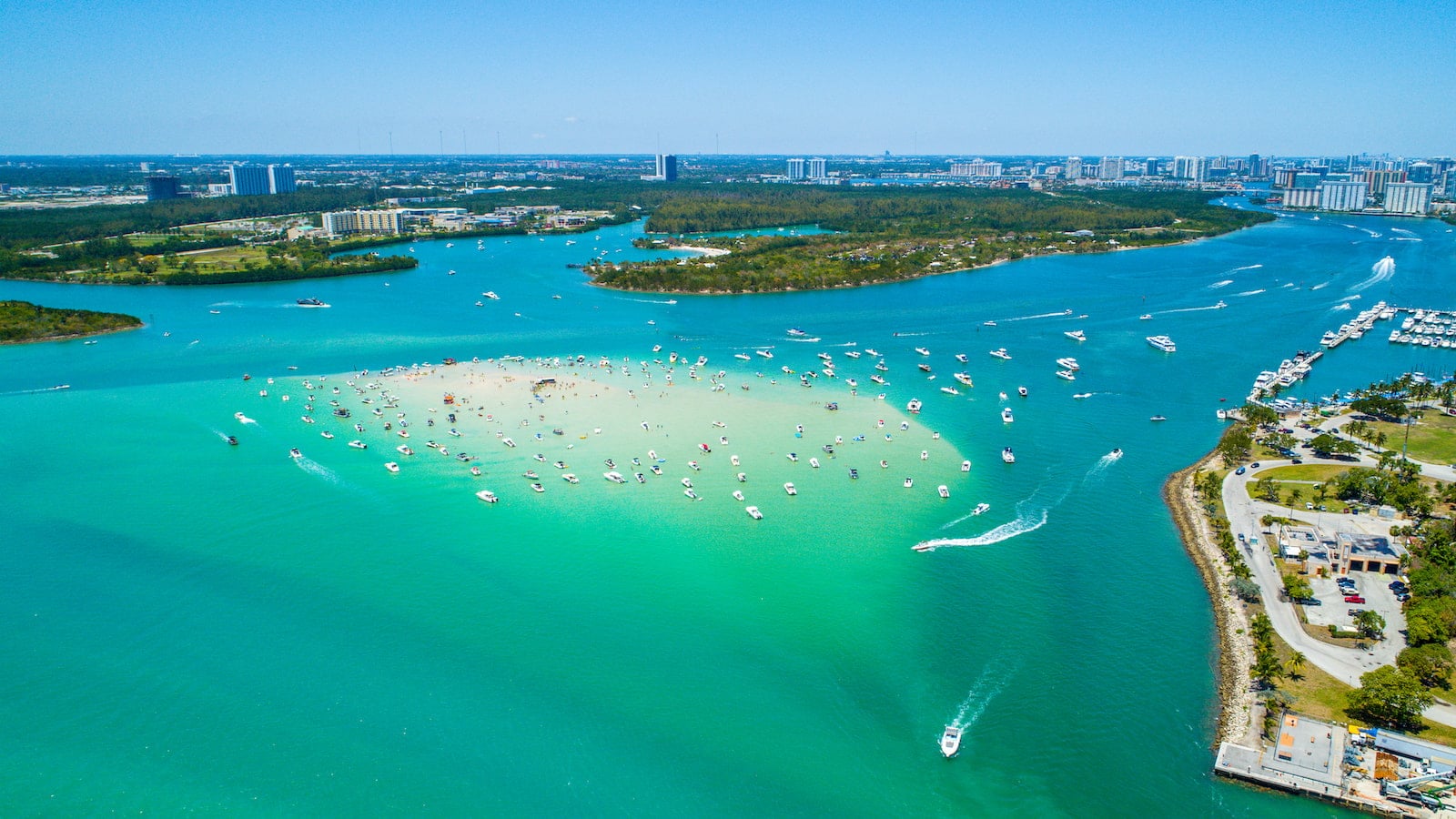 Also, don't be surprised to see kayakers on two different missions in the crowd. The first procession is paddling in from their nearby Oleta River State Park habitat and vegetation treks; whereas, the second group is more business minded and can be seen dolling out hot bites and delivering ice cold six-packs of Budweiser to the boats.
The occasional graceful dolphins gliding by, and friendly pups jumping up hoping to snatch their master's Frisbees, make for a nice added visual. Loud Latino playlists from Pit Bull and Ricky Martin to old-school Gloria Estefan are the weekend norm. For seafarers seeking a more serene experience, weekday visits are far more tranquil. Tunes are toned down, as is the spirited, "This is Miami and anything goes vibe."
Biscayne Bay: Flagler Memorial Island
Bidding farewell to Haulover, stop number two in Biscayne Bay takes you southbound to Flagler Memorial Island to soak up some United States history and Florida culture (yes it does exist). Built in 1920, the 110-foot (34 meter) obelisk in the middle of the island is a memorial to Henry Flagler, the American industrialist and key figure in pioneering Florida's Atlantic coast and railway system, as well as, putting the cities of Miami and Palm Beach on the map.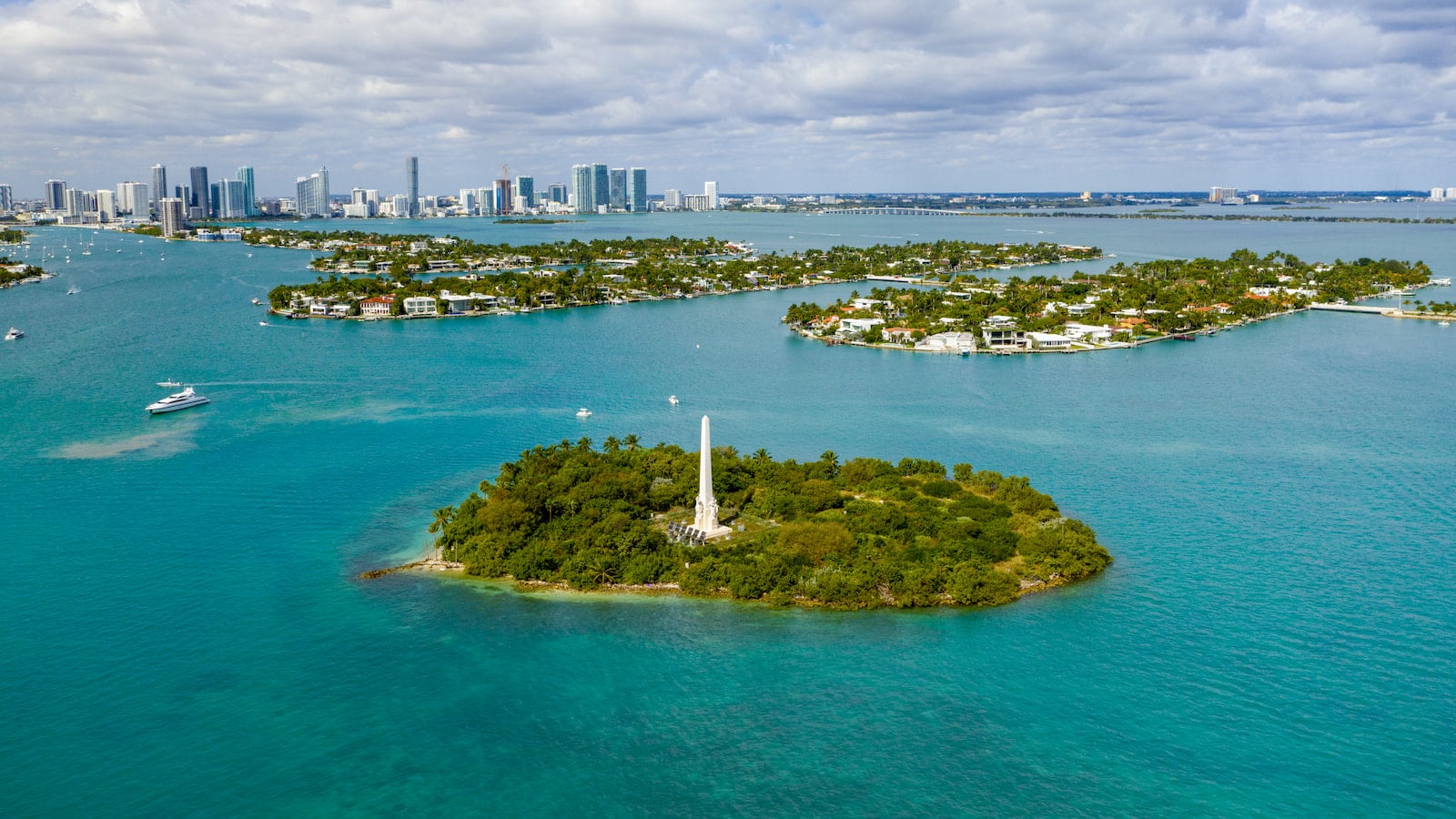 Lacking seawall protection, powerful tidal flows from Government Cut and numerous high category hurricanes over the years have taken a toll on the iconic landmark and the island in general, but picnic tables await and the deserted islet is worthy of a walk-thru. Bordered by beautiful views of Star Island, Palm Island and Hibiscus Island, as well as, the Venetian Isles… the northwest side is preferred for beaching.
Deck at Island Gardens
After a day of discovery in the Biscayne Bay, it's only fitting to finish at the Deck at Island Gardens inside the Yacht Haven Grande Marina on Watson Island. The superyacht sanctuary is that quintessential place where you can wine, dine and dance the night away.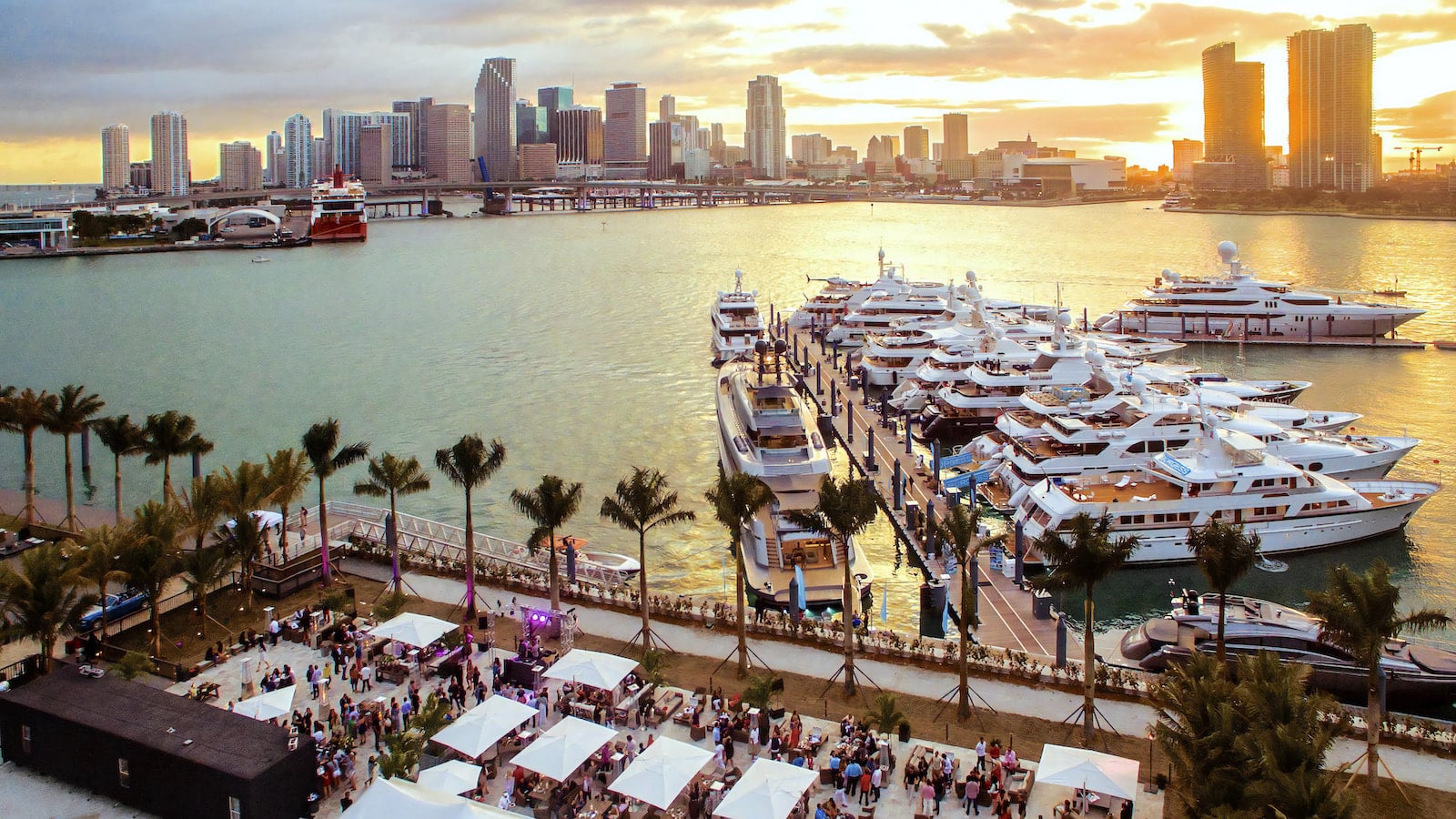 Photo Credit: Island Gardens
Embellished with towering Norwegian Cruise Line ships sailing to and from the Port of Miami terminal and striking vistas of the Perez Art Museum and FTX Arena, the silver lining is the one-of-a-kind location luring locals and tourists in with a taste of la dolce vita from its synergy fusing chic refined dining, with a touch (or much) unrefined late night unwinding.
No matter your motive, whether celebrating the celestial sunset over cocktails; delving into a lavish dinner below the stars; or popping a magnum of Moët dancing to the live DJ, the Deck is sure to complete your day on the Bay leaving a heck of an impression with its bright light panoramic vistas by night.