Dubai International Boat Show and The International Yachting Media: media partnership agreement signed today
An important agreement was signed today between the Dubai International Boat Show and The International Yachting Media. The DIBS – that's the acronym for the boat show – registered a very successful 2022 edition and, anticipating a further increase in visitors and shipyards for the edition starting in a few weeks, it could only call for the support and media coverage of The International Yachting Media, which, with its 6 magazines, 12 international editions and the renowned Boating News App, is the most widely read digital yachting publisher in the world.

Journalists of our group's six digital publications, which disseminate yachting information around the world, will therefore follow the show from March 1-5, report on it in real time through articles, photos and videos and chronicle everything that will happen at this luxurious exposition, providing the show with maximum media coverage of news related to shipyards, boats, accessories and marine services and technologies.
For The International Yachting Media, a group founded in 2014 by Luca D'Ambrosio, the media partnership with Dubai International Boat Show represents a further element of prestige in a period full of achievements and successes that has seen the group acquire YACHTDIGEST.COM, launch the German editions of SUPERYACHTS and YACHTING NEWS and launch its presence in the metaverse with YACHTING METAVERSE.
Dubai International Boat Show
The DIBS,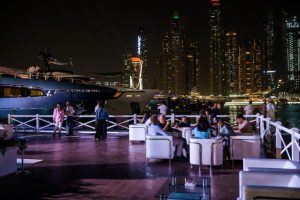 to be held from March 1-5, 2023 at Dubai Harbour, is a unique boat show. Capable of gathering a large number of yachts and superyachts from all over the world, it is the largest boat show in the Gulf Cooperation Council (GCC) , the United Arab Emirates (UAE) and the Middle East.
Whether you want to buy a boat, visit large luxury superyachts, test the latest jet skis or explore the latest water and underwater innovations, the Dubai International Boat Show is the ultimate event to introduce you to it all.
DIBS is also held in conjunction with Dive MENA, the only show dedicated to the diving community in this part of the world.
Dubai is a renowned and very special tourist destination. You can visit the highest skyscrapers on earth or stay in the most luxurious hotels in the world. In Dubai, the place where anything is possible, you can even ski when temperatures approach 50° or swim 300 meters above sea level in the infinity pool at the Address Beach Resort.
The Dubai International Boat Show is truly a one-of-a-kind boat show, all the more reason not to miss it.