What made the exclusive Superyacht Miami venue at Island Gardens Marina even more super during this year's 2022 Miami International Boat Show (MIBS)? It was the arrival of the "Gene Team" having the 55-meter Amels 180 Gene Machine and its new 55-meter Yacht Support Vessel Gene Chaser from its workboat division Damen, moored stern to stern on the exclusive quay along the southern side of the Miami Causeway slotted between downtown and world famous South Beach.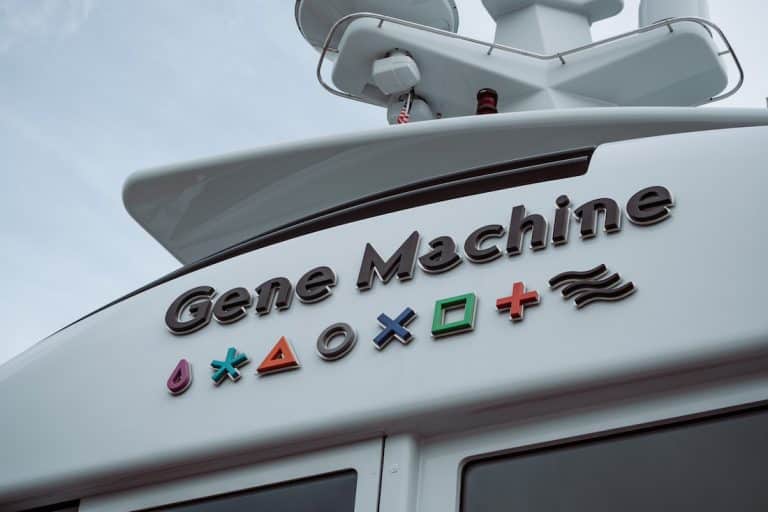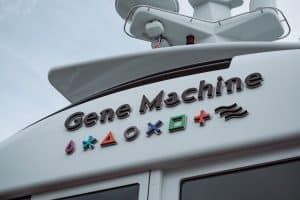 Dr. Jonathan Rothberg of Guilford, Connecticut, owns Gene Machine and Gene Chaser. The American scientist, inventor and biotech billionaire whose goal and mantra are one in the same "to feed, fuel and heal the world" is best known for his contributions to next generation DNA sequencing.
Delivered in 2013, the flagship of the fleet, Gene Machine is powered by 2 MTU 16V 2000 M70 diesel engines. It cruises at 13 knots (24 kilometers) and reaches a top speed of 15.5 knots (28 kilometers).
Not surprisingly, last year he turned the main salon into a floating laboratory focused on developing a coronavirus home test kit, after its original 2017 conversion into a laboratory for taking water samples from the family's amazing adventures around the globe from the Bahamas to the Arctic Circle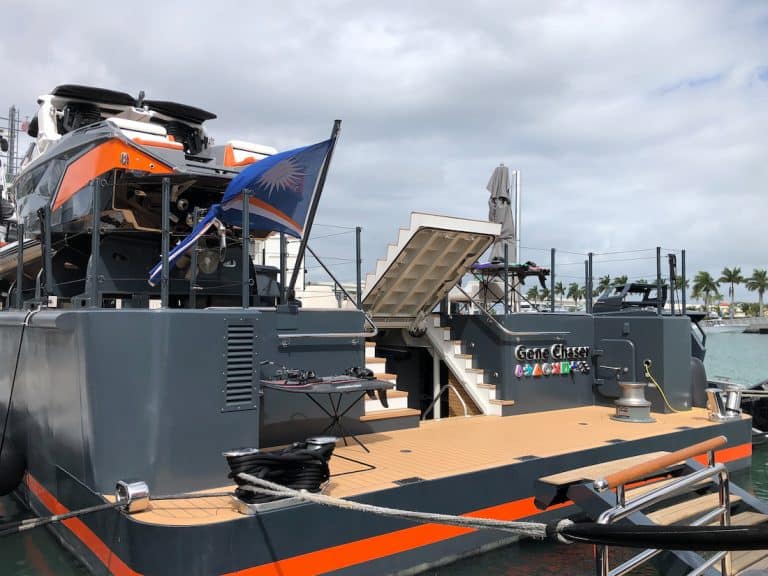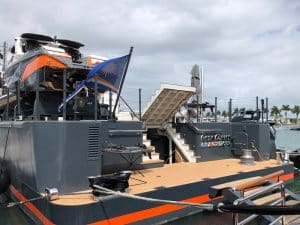 The rugged Gene Chaser "caught up" with Gene Machine in 2021 and together the yachts work in tandem to support the scientist's very specific needs melding technology with life on board.
Summing up his motivation, Dr. Rothberg says, "It's the tip of the spear as we deploy never before available technology to characterize, understand, and expand our knowledge of biodiversity, and identify nature's solutions – within her genes – to the world's greatest existential threats."
Having both yachts from the fleet at the Miami show together is a very unique opportunity, in which, North American commercial executive Jan van Hogerwou adds, " It truly showcases what the Damen Yachting portfolio is all about and more importantly, how a very specific vision of yachting, family experiences, science and work can be brought to life."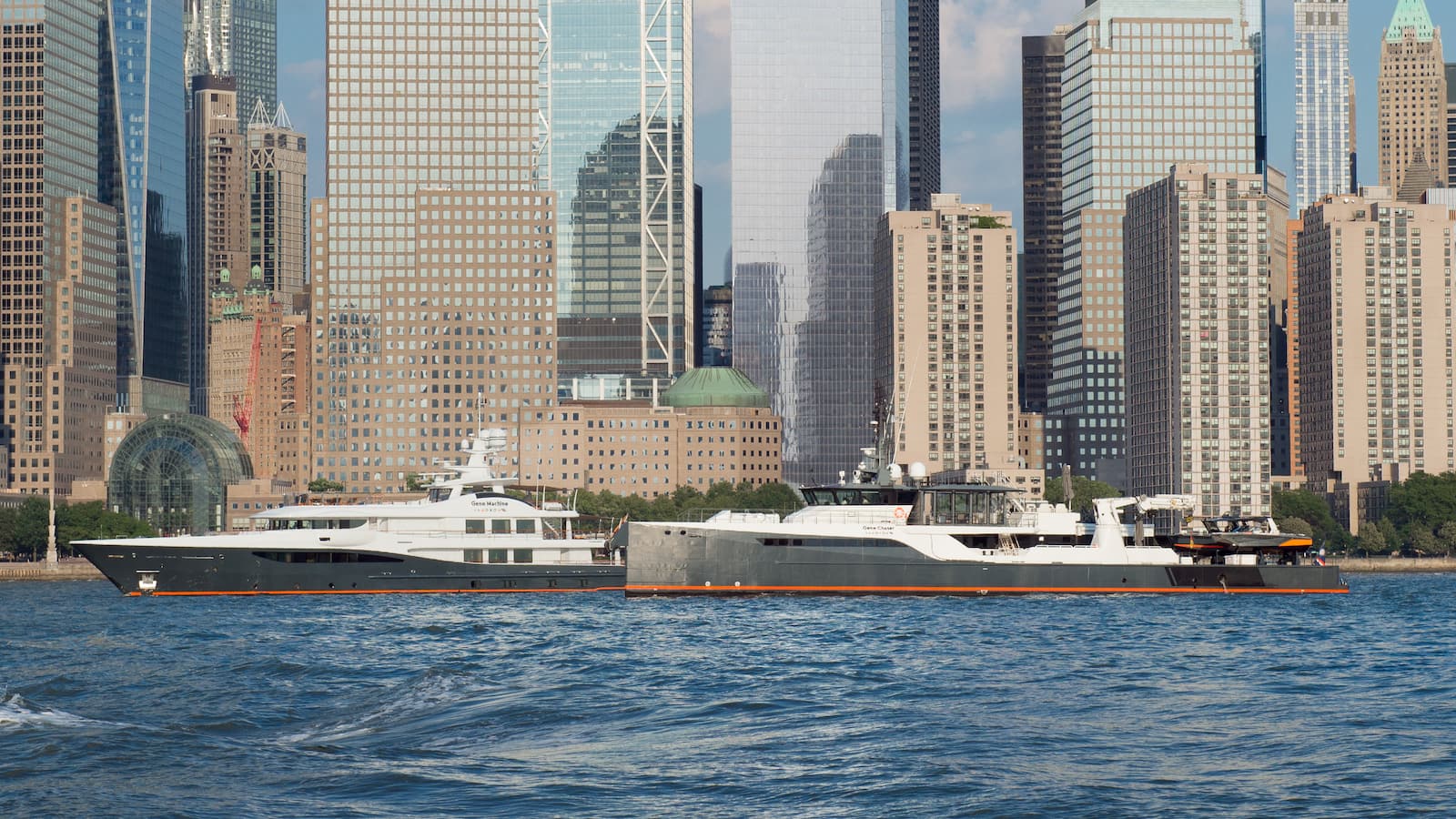 Noted for holding a wide range of mission-specific equipment and accouterments stemming from toy transporters to dive centers and aircraft carriers – versatile and resourceful— best describe the Netherlands-based builder's Yacht Support Vessels.
In the case of Gene Chaser, originally launched as Blue Ocean prior to Rothberg's purchase – its main purpose is to function as an extension of the mother ship's on-water research facilities; hence, an intense interior transformation was required to incorporate a laboratory and hub for ongoing projects.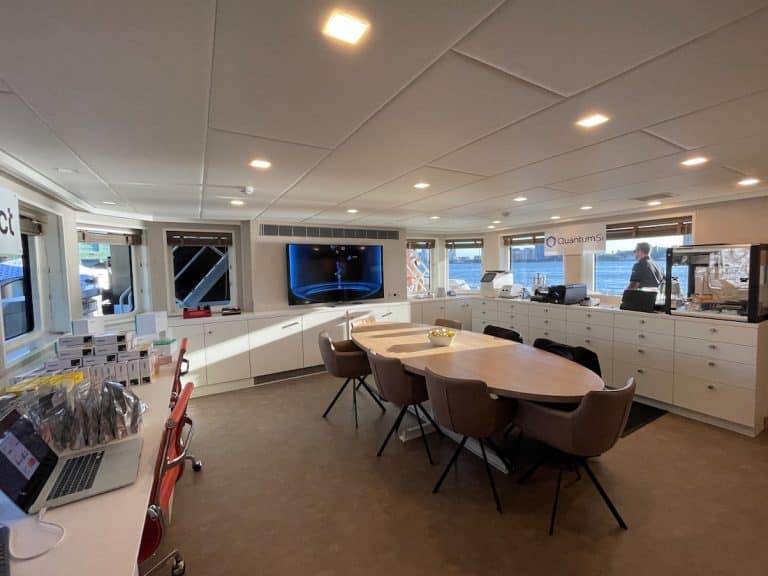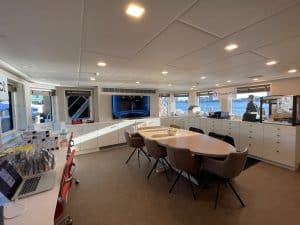 The main salon was converted into a working wet and dry laboratory with ample space for conferences and educational purposes, and living quarters have been modified to host visiting scientists and academics. Below the main salon, after working hard, guests are invited to play even harder in the utilitarian zone which boasts of a beach club and dive center.
Beyond this sociable fun time space is the commercial engine room; seven Caterpillars can be counted, four are engines and the remaining three are generators.
A high-performance knuckle-boom 13 ton capacity crane, a Fjord 42 and a Hatløy Maritime Oxpro AL8 landing craft share the 225 square-meter exterior deck that instantly commands your attention. Deeper observation reveals side and transom nameplates paired with an accompanying lower row of colored symbols akin to the signature orange boot stripe spanning the length of the yacht above the waterline.
The partnering vessels, remarkably similar yet strategically different in multiple capacities, serve as a prime example as to why having two yachts measuring over 110 meters in total is better than only one! The Amels and Damen Yachting Shipyard have delivered Dr. Rothberg, Miami and the entire world, a truly resilient "one-of-kind twosome".