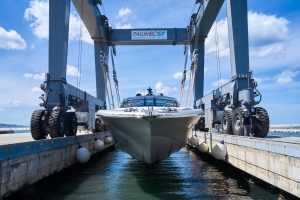 ISA Super Sportivo 100ft GTO was launched at the Palumbo Superyachts Ancona shipyard. A sporty designed 30-metre silver arrow with a glass superstructure that will premiere next September during the Cannes Yachting Festival 2021.
Marco Casali (Too Design) penned both the exterior and the interior design, while the naval engineering is by Palumbo Superyachts. Performance is certainly the main ingredient of what is about to be one of the fastest models currently available on the market. Indeed, with 3 MAN 2000 HP engines she can reach the impressive speed of 50 knots.
The concept of ISA Super Sportivo 100ft GTO focuses on the maximum enhancement of the values of sportiness and seaworthiness in an open vessel.
The sleek lines are accentuated by the high deep V-shaped bow and by the profile angle rapidly decreasing towards the aft. The sizeable open surfaces available forward and astern make it a unique product in its category, while the large opening glass panels of the hard top still ensure maximum comfort even in the covered areas of the cockpit. The boat performance is stylistically amplified by the big air intakes playing a dynamic role when positioned above the hard top.
The interior, available in several options from 3 to 5 guest cabins in addition to the two crew cabins, are totally customizable and characterized by a design aimed to maximise light and confer an iconic architecture on spaces.
The ISA Super Sportivo line also includes the larger 121ft and 141ft models. 
ISA YACHTS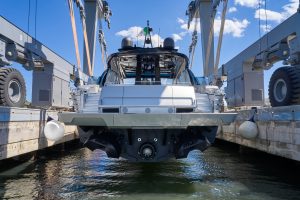 Dedicated to producing forward-thinking superyachts made only with superior quality materials, ISA Yachts is a leading global superyachts and megayachts builder. 
Every ISA superyacht is uniquely designed to her owner's briefs, and is built using the highest technology, the best quality materials and the finest furnishings and finishes.
ISA Yachts is not only an icon of excellence in style and high-end construction, but has made quite a name for itself by pushing the boundaries of yacht building and succeeding at every turn. 

Our largest build to date, the stunning 66 metre superyacht OKTO, has been roaming the seas as the epitome of style and luxury in her class since her delivery in 2014. 
ISA Yachts is part of Palumbo Superyachts network, which also includes: Columbus Yachts, Mondomarine, Extra Yachts and Palumbo SY Refit.
For more information

Virginia De Carlo
v.decarlo@palumbosuperyachts.com
M. +39 3481537028