Everyone has seen Project JAP on the Kiel channel, a mastodon taking shape and presenting its credentials to the public very well.

Project JAG, a superyacht almost 18 meters wide, hit the water of the Baltic Sea for the first time last June 22nd. The launch, in Lürssen typical old-fashioned style, was carried out by sliding a raw, unadorned JAG off the rails at the Rendsburg shipyard in Germany.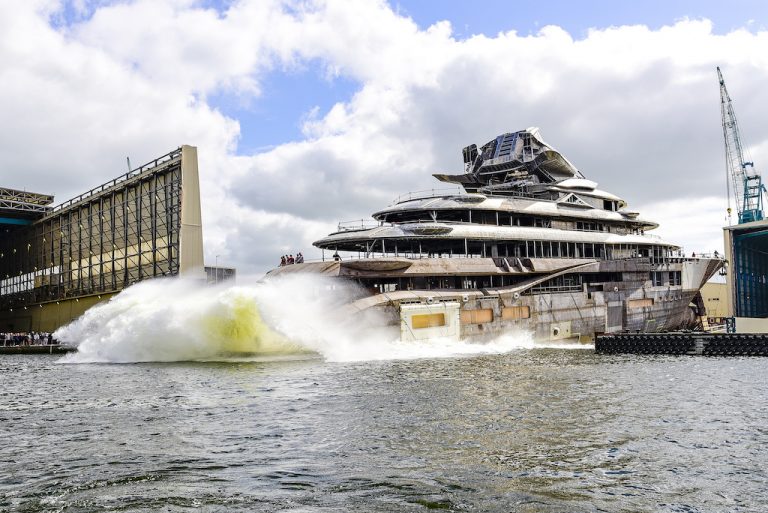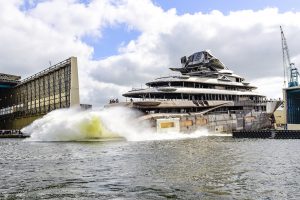 The JAG'S construction project is being carried out under the supervision of Moran Yacht & Ship, which in turn has a"a long-standing relationship with the customer". 122 meters long, JAG will replace the "old" 96-meter yacht designed by Lürssen and in the possession of the owner, who decided to take this further step by opting for a very substantial "upgrade" .
JAG's captain
Captain of JAG will be Kyle Fultz. A reiterated assignment for Fultz who, including the JAG, together with a crew of 39, is set to captain the third of the Lürssen yachts owned by the US owner. The JAG will accommodate up to 20 guests on board and has 11 cabins.
All-Italian exterior design
JAG' exterior design was entrusted to Nuvolari Lenard, the Venetian studio that has overseen dozens of yachts and superyachts and is the result of a partnership between nautical architect Carlo Nuvolari and renowned designer Dan Lenard. The boat's sleek forms and sharp geometries, although minimally revealed as the boat is in its current state, in no way detract from its idea of elegance and "harmonious proportions".
British interiors
Interiors, instead, are by Reymond Langton, the design studio based in Bath, Somerset. Lürssen has defined them as  «a bespoke tribute to the lifestyle of JAG's owner".
JAG'S bowsprit is sharp and piqued on the horizon, recalling those mounted on the ships of the past, as if it wanted to face the sea armed in a determined protagonism. It does so with good reason, because the JAG project had already attracted the attention of the press in 2019, when Lürssen announced its sale at the Monaco Yacht Show.