100 Sunreef Power is the largest of the motor-powered catamarans ever built by the Polish boatyard Sunreef Yachts, based in Gdansk, Poland. The multihull boat has been engaged this summer in a sea trial in the Baltic Sea that included technical tests and fine-tuning of the two 1,300 HP engines.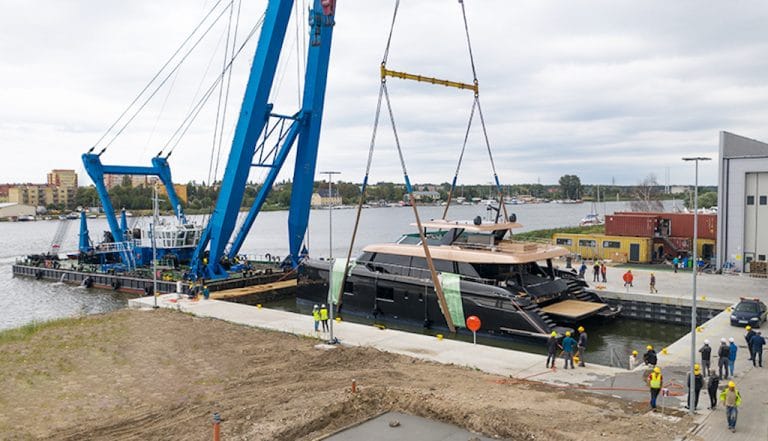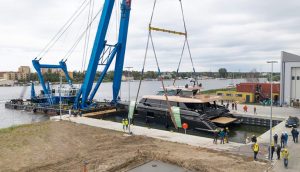 The boat boasts great elegance characterized by the creamy pink colours of the superstructure, perfectly matched with the very dark grey of the two metal hulls. The aft beach area of the 100 Sunreef Power is ultra-spacious and framed between two prominent entry ladders on both the starboard and port sides. This gives access to a garage of unparalleled dimensions that only a maximum beam of 13.5 meters can offer.
Huge garage
The garage accommodates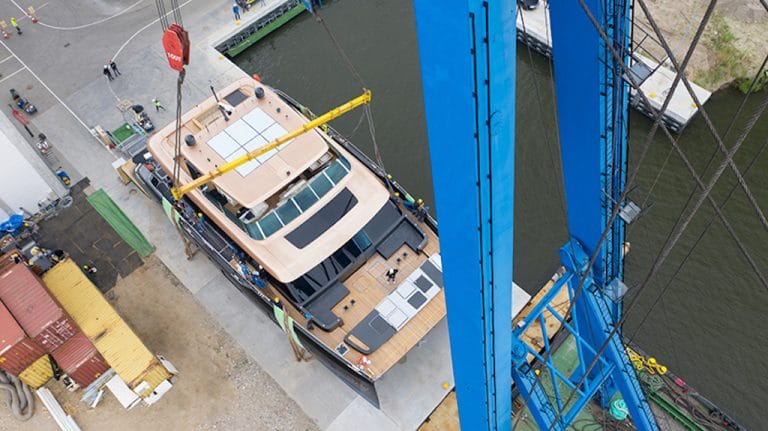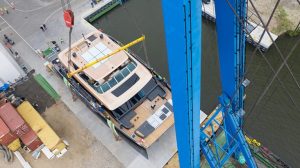 two jet-skis, " a selection of water toys and a large hydraulic platform". In fact, the beach area can be levelled to the height of the aft terraceon the maindeck, making it almost twice as large. The aft terrace on the flybridge is almost full beam and has a jacuzzi. 100 Sunreef Power can accommodate up to ten guests, is partly built in composite, measures 28.63 meters, and has a capacity of 20,000 litres of fuel and 2,400 litres of water. The naval architecture and design of this superyacht are entirely by Sunreef Yachts, which always guarantees the highest customization of its vessels.
100 Sunreef Power Exteriors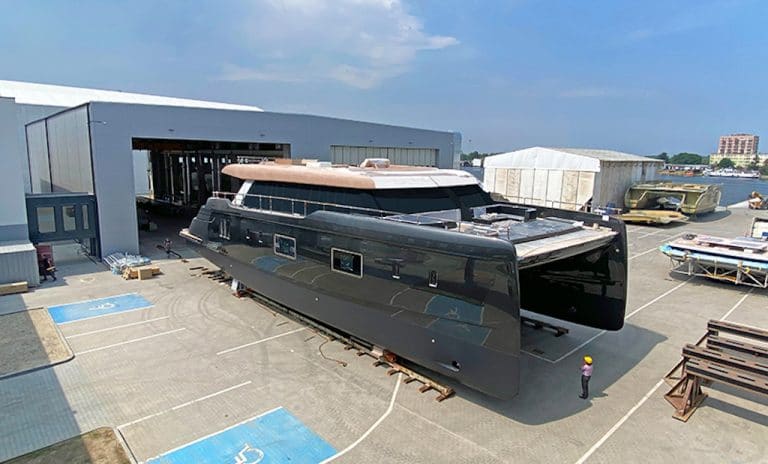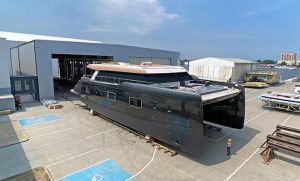 Viewed in profile, the boat sees the three-horizontal-bar stainless steel handrails running from the centre to the bow of each hull. The simply (equally) immense foredeck is joined at the stern by spacious side-decks. The outer bow sofas are positioned exactly below the transverse bridge window. In the bow, the grey-coloured sundeck can accommodate at least six people. The foredeck is completely open to the sea without any protection. The main deck saloon is "a giant 'alfresco' relaxation area with a large interior". Natural light floods into the well-lit cockpit thanks to the abundant vertical windows and the transparent sliding door that invites you into the aft deck. This is further incontrovertible proof that multihull superyachts are making their mark on luxury yachting. And the interest we've seen at boat shows in this type of craft is really high.