Vitruvius N10: this is the code name of the new custom yacht presented by the design studio of the same name in collaboration with Tankoa Yachts. Naval architect and yacht designer, as well as founder of Vitruvius Yachts, Phillipe Briand, was directly involved in the project. He was called in directly by the couple who were interested in purchasing a superyacht, after having chartered several.
"We received a call from this dynamic husband and wife team in November 2020. As newcomers to yacht ownership, they had conducted extensive research on the designers and asked if we could support them in their mission. We knew their mix of enthusiasm and rationality would be a great match with our team, so of course we accepted! – Briand explains – Four days later we received a long brief which initially made us scratch our heads and ask ourselves, 'How are we going to meet all their requirements for a 52m yacht and stay under 500GT? Since then, we have produced 15 versions and developed the design down to the last centimeter to make everything perfectly suitable, finalizing the GA with FM Architettura".
Among the various requests, one in particular proved to be a challenge: to create a very large sundeck with ample interior space, without affecting the yacht's stability.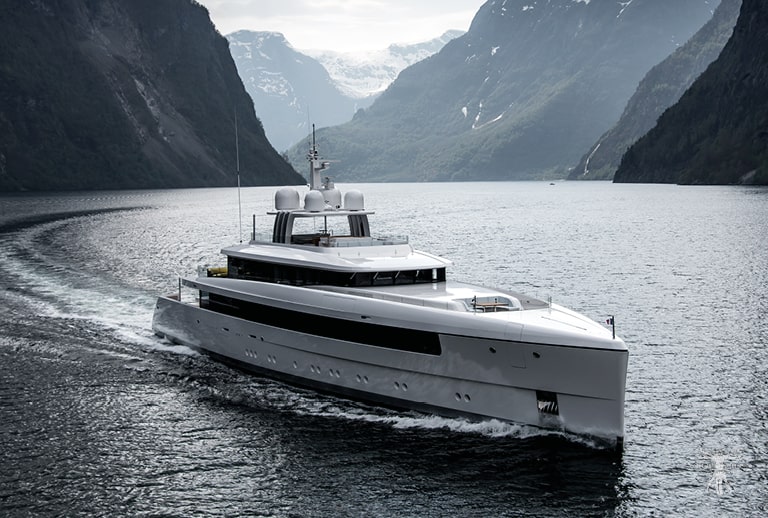 " This is where naval architecture and exterior design have to go hand in hand. While we plan the design of the yacht, we always think about the technical feasibility of her; the structure of the ship and how it will be built by the shipyard – Briand points out – Obviously, this adds an extra layer of complexity, but it ensures that the client's plans will be executed once they are approved".
Vitruvius N10 will be 51.5 metres long and will have a clean and elegant design, like the studio's other creations. The interiors have been designed by FM Architettura, while project management will be handled by Albert McIlroy at OptimusNavis.
The superyacht has been designed with maximum relaxation in mind, as can be seen from the large sunbathing area and more than 250 square meters of terraces that are scattered throughout the ship. The layout includes 6 cabins for 10 guests.
The new N10 will be powered by hybrid propulsion for an impressive range of 4,000 nautical miles. She will be built entirely in aluminium in the Genoese shipyard of Tankoa Yachts and is scheduled for delivery in spring 2025.