Baltic Canova swept the board at the World Superyacht Awards 2020 on Friday 13th November when she not only won her category, but was also judged Sailing Yacht of the Year.
Sometimes, reality exceeds imagination and this is just the case of the Canova.
Unlike traditional launches, where new racing boats are usually put in water and subject to sea trials that normally take just a few hours or a couple of days, the construction of this extraordinary yacht required a long time to be finished.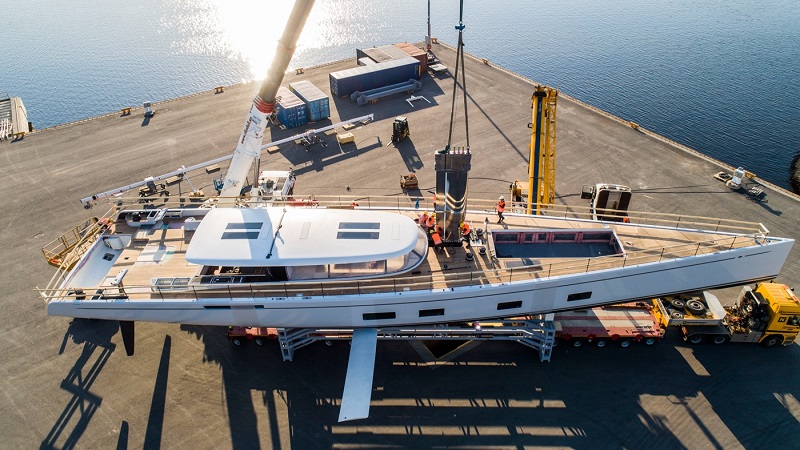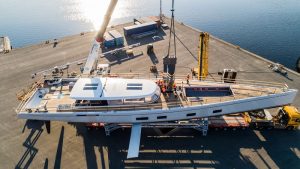 Baltic Yachts excels in balancing sailing emotions with safe and efficient systems, in compliance with the standards achieved in the design offices.
When it is launched, a new boat is often said to be innovative.
But is it really so? Sometimes, innovations are minimal or concern only some specific aspects of a boat, such as sails, automation systems and keel. But that is not the case with the Canova.
This 142-foot yacht is different from all the others and its ground-breaking innovations involve every aspect of the boat.
The sloop-rigged yacht that Baltic Yachts has built and launched in Finland in June was commissioned by a long-experienced yachtsman who has worked for years to make his dream innovative boat come true.
The background is that of a world tour passing through Panama, at high speed, with maximum comfort, and a reasonable autonomy in maintenance. The boat had to be beautiful, almost like a sculpture (not surprisingly, there is a very suggestive marble model).
Style is contemporary, elegant but never opulent because the purity of design generates relaxation, comfort while highlighting details.
Naval architecture is by Farr Yacht Design, Lucio Micheletti designed the elegant exterior while the interiors are the result of a joint collaboration between Lucio Micheletti and Baltic Yacht in-house Design Department. Added to these are Gordon Kay for the innovative DSS (Dynamic Stability System) foil concept, Gurit for structural composite engineering and Mattia Belleri, Project Manager for the owner.
Canova: Technological innovation and tradition
Canova is the result of a comprehensive creative process that involved the owner, his friends and designers. " When we created the first maquette, I imagined it inside a bottle – explains Mr. Micheletti – When I put and built my boat inside this empty bottle, I thought of the sails, the wind, the waves, the immensity of the sea. Only this way everything made sense: perhaps ours is not a maquette, it is a world.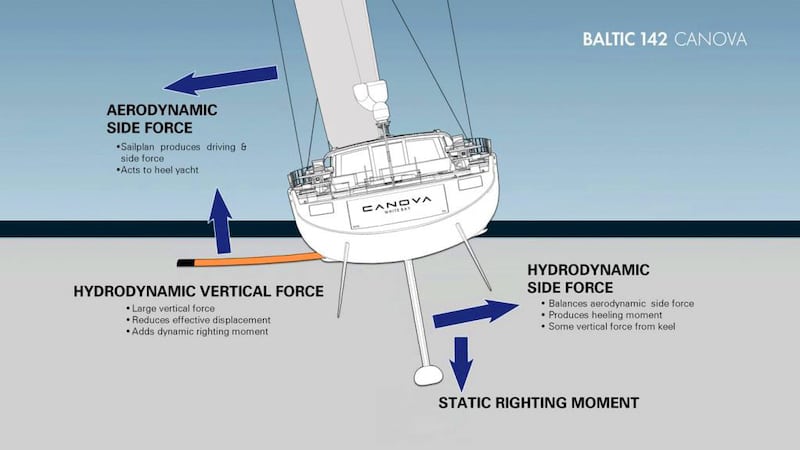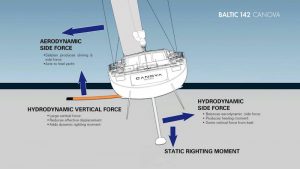 Perhaps, there is a close relationship between the beauty of boats and the happiness of its designers". A boat is one of the most difficult items to design, an absolute challenge for designers, who must be able to combine living and nautical aspects, performance and comfort. And it is precisely on these aspects that Canova's challenge is based: to be a completely reliable and extraordinarily comfortable boat. Dimensions are essential in this respect: 142 feet and a displacement of 140 tons.
The speeds predicted are very interesting and testify to the boat's ability to sail at the wind speed in any wind condition. This means sailing at 25 knots in a 25-knot wind with a cruiser. Of course, the sailing world has already achieved these performances but only with racing hulls and crews and not with such fully-equipped interiors capable of guaranteeing a month of autonomy.
Main innovation of Canova
The Baltic Yachts 142-foot Canova sloop-rigged yacht is probably the most complex and sophisticated superyacht ever built. With a wide range of innovative systems and cutting-edge technologies, its main distinguishing feature lies in the largest DSS foil never built, which exceeded even its inventor's expectations during sea trials.
Sailing at 15 knots, the DSS foil system reduced heel angle from 30 to 18 degree in 20 seconds.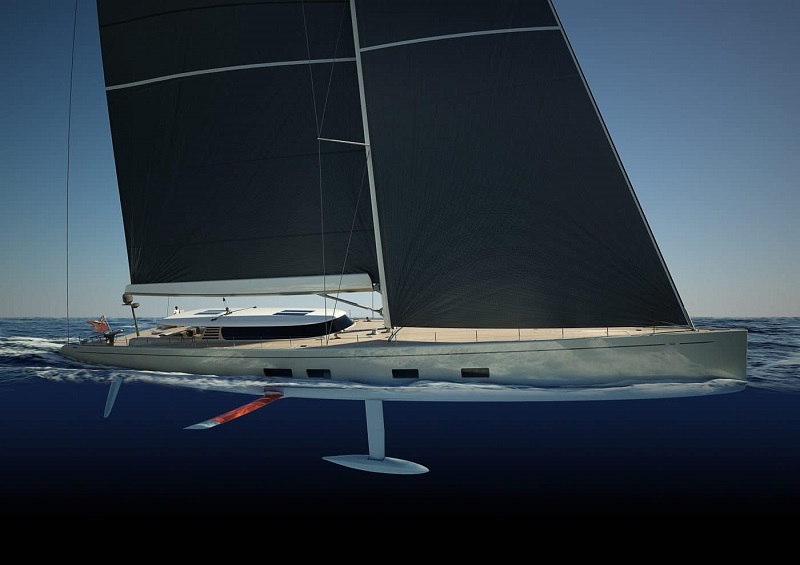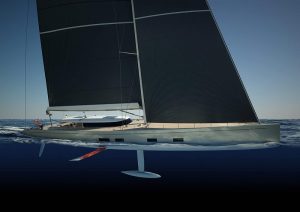 The DSS foil is placed directly beneath the owner's cabin amidships, which makes its operation extraordinarily silent.
Sailing upwind at a 20/24-knot speed, the foil increases VMG by a quarter of a knot while reducing the heel angle by 30%, which means it generates the same righting moment that a 33-ton ballast. Pitching motion is equally reduced by 42%.
Structure and interiors
These results have been achieved thanks to the particular structure of the hull.
An outstanding feature of the yacht is a lifting keel able to reduce the draught from 6.5 metres to 3.8 metres. However, the main innovation is offered by the DSS technology that has proved highly effective in reducing the heel angle.
" Canova interprets the real season why we invented DSS: more comfort, improved performance, longer horizons and vision of the future" – states Gordon Kay (Infinity Yacht).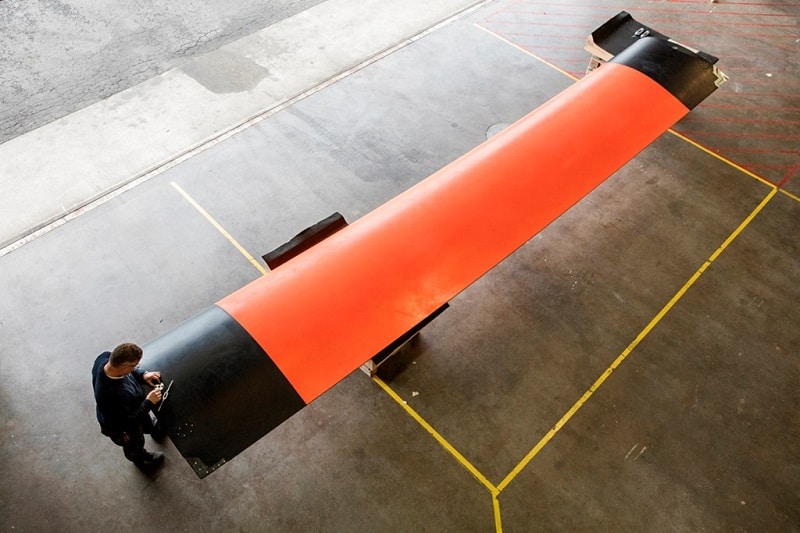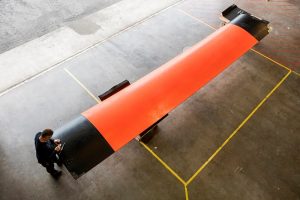 The fin – a long retractable wing that disappears when not in use-  is positioned amidships and is pushed into the water from the leeward side during navigation. Many resources have been dedicated to it, confirming the importance of its presence. Other amazing features include electric propulsion, with a 420kW barely audible pod actuator, a self-sustaining hydrogenerator during sailing journeys, and electric winches.
The Italian historical brand North Sails worked on the rigging, embarking on a very important challenge with the use of a 3D construction system for one-panel sails.
A square top mainsail is set on a 3.5 meter spar with an area of 570 square meters, to which is added 390 square metres of genoa.
A Rondal mast adds high-performance credentials to the yacht.
The deck is one of the sections where the great habitability of the yacht is most perceived, offering fluid circulation towards the deck house, divided in distinct spaces for the owners and his guests.
Dream Interiors
Below deck, a long corridor anticipates the generous volume of the hull and leads to the master cabin located amidships, in an optimal position to feel less movement in navigation and in the harbor. Made bright by three large windows inserted on the two sides, it has a partially tilting bed that also hides the large carbon DSS box. The cabin is equipped with two heads and a double two-level wardrobe.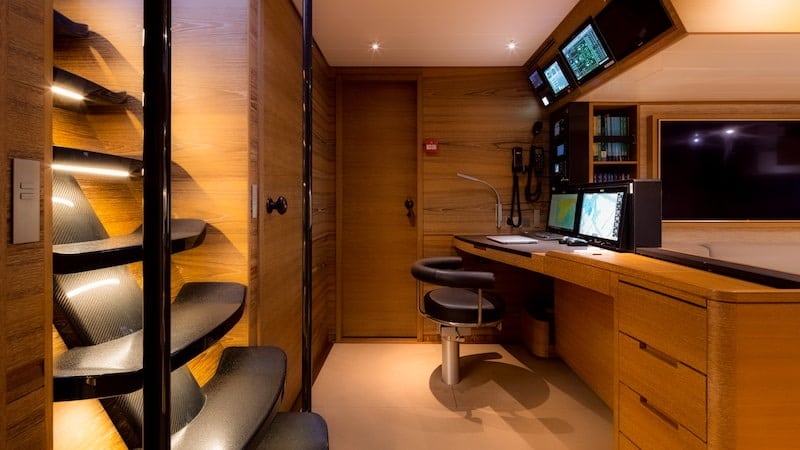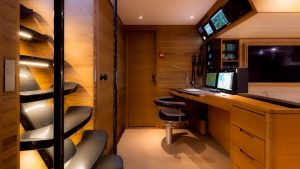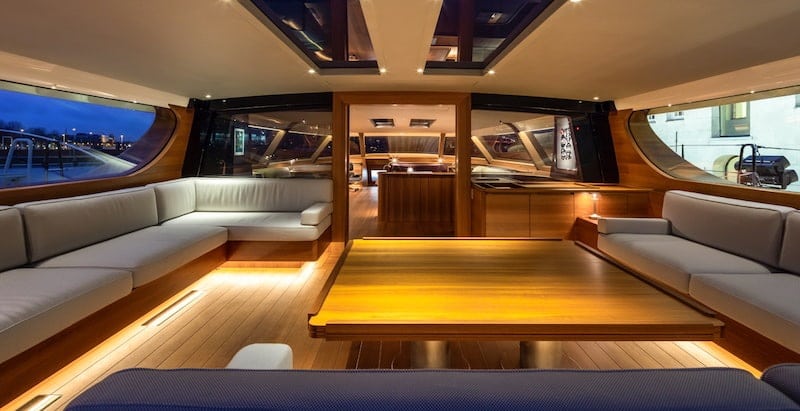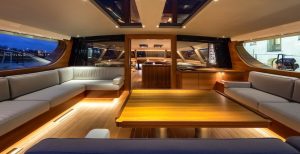 Continuing forward, through a set of panels, the corridor turns into a TV room or, alternatively, a double guest berth. The bow deck accommodates a twin-bedded guest cabin on the starboard side and the master cabin, both with private head and sofas. "The choice of neutral colours – explains interior designer Lucio Micheletti – wants to entrust the chromatic message to the materials. Powerful materials like bronze and marble, sensual materials like linen and velvet and interesting solutions like glass with a mirror effect work in perfect harmony, breaking the chromatic effect of wood ".