At this year's Monaco Yacht Show, the word 'sustainability' resounded frequently through the halls, where a large number of improvements appeared in various sectors of the yachting industry to make engines, furnishings, consumption and much more sustainable.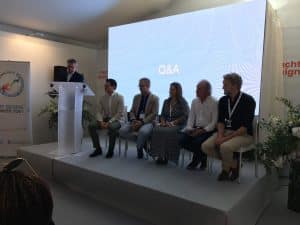 While it is clear that behind this transition there is certainly an economic driver, which obviously has to be taken into account given the current historical period, there is also a sort of collective consciousness that is increasingly pushing both manufacturers and customers in this direction.
It was on this very basis that the Sustainability Conference organized by SYBAss (Superyacht Builders Association), together with the Water Revolution Foundation and the Superyacht Life Foundation, was held at the Monaco Yacht Show 2022 in the Principality of Monaco.
At the centre of the panel, moderated by Tony Harris, Superyacht Industry Ambassador, were the developments that this sector is pursuing in order to make production processes more efficient and long-lasting, and what progress the superyacht industry is making in the field of sustainability.
"The Monaco Yacht Show was originally born under the banner of sustainability– confirmed Gaëlle Tallarida, Managing Director of the Monaco Yacht Show – We are committed to a more sustainable event, and we already have solutions in place. Moreover, the Sustainability Hub highlights sustainable solutions and projects that help reduce the superyacht environmental footprint with the support of the yachting industry and with the help of Water Revolution Foundation. The Hub has start-ups specialising in technology, solutions and eco-friendly concepts, and it is set to take a leading role in showcasing innovative and future superyachting solutions".
"Yachting is the only maritime sector that has a dedicated non-profit organisation for tackling its environmental impact, and there's a huge amount you can gain in terms of efficiency to share what has been worked on – and the results of – research and development," said Robert van Tol of Water Revolution Foundation – "Where commercial ships just use the oceans to transport goods from A to B, yachting has an extra connection – it is our back garden. As an organisation we focus on reducing the negative impacts on the environment but also on ocean conservation, which is an opportunity to have a collective positive impact. This is a growing initiative and more and more companies are coming on board".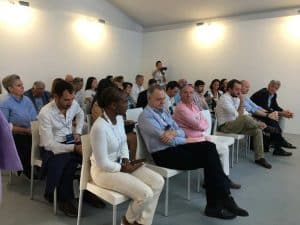 Philippe Briand presented technical detail on how yacht design can make a significant difference in the efficiency of vessel while Giedo Loeff, head of research and development at Dutch superyacht builder Feadship, focused on how Feadship's research over the past 15 years has focused on the transition to renewable fuels: embodied by the recent Pure yacht concept, Feadship outlines a roadmap for 2030 that focuses on alternative fuels such as methanol and hydrogen.
Last but not least, Baltic Yachts CEO Anders Kurtén addressed the build side of the industry, outlining how Baltic Yachts has been taking steps to incorporate more renewable, recycled or alternative materials in yacht construction – for example, using flax in place of glass fibre or carbon in hull and frame construction.
"A superyacht is a product that exists for one reason – to put a smile on the owner's face – Mr. Kurtén enthused. "Seeing as the world is changing, we'd like to act in a way by which they can continue to buy a yacht with a good conscience. We believe that our customers represent about 0,003 percent of the global population but as they control 15 percent of global assets, their actions are lighting the way as thought leaders. There's no silver bullet but sustainability is achieved by focusing on multiple small details all combined. And our customers collaborate with us to create sustainable solutions."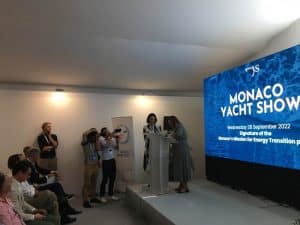 In short, the track becomes more defined with each passing year and the road is taking shape, heading in the right direction. Having spoken about and emphasized once again the importance of sustainability at the Monaco Yacht Show, is proof of how initiatives like this are increasingly involving the major shipyards, which are the most important players in this epochal change in the yachting sector.
A strong signal, as Robert van Tol points out in conclusion "Our aim with the Conference was to show that the industry is really making progress in this area of sustainability, and to inform the media and the wider public about all of the new developments that are going on in the background both with existing and established builders and suppliers but also with new companies that are innovating in this sector and attracting investment in this sector ".